Maxar to add urban change, NaturalVue products to Esri
By Loren Blinde
March 29, 2019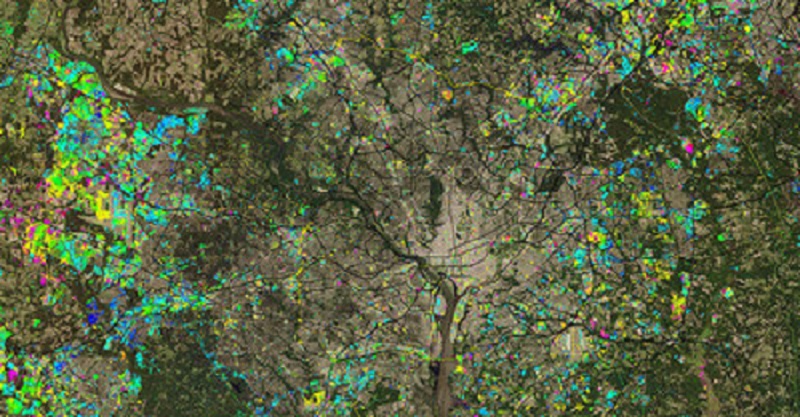 Westminster, CO-based Maxar Technologies announced on March 28 an agreement to integrate its NaturalVue 2.0 image mosaic and National Urban Change Indicator (NUCI) commercial products into ArcGIS Living Atlas of the World. The operations of DigitalGlobe, SSL and Radiant Solutions were unified under the Maxar brand in February; MDA continues to operate as an independent business unit within the Maxar organization.
ArcGIS Living Atlas of the World is the world's foremost collection of maps developed by Esri partners and the Esri user community and is available in ArcGIS Online, Esri's flagship cloud-based geospatial platform. These enhancements will accelerate the speed at which analysts distill actionable intelligence from multiple sources of geospatial data to solve a variety of problems and missions globally.
NaturalVue 2.0 is Maxar's next-generation global image mosaic, encompassing over 60,000 Landsat 8 images. As the highest quality global, commercially available, and virtually cloud-free 15-meter mosaic with current imagery, NaturalVue 2.0 provides a seamless basemap that reflects the Earth's true colors. NaturalVue 2.0 updates and improves upon previous versions with enhanced positional accuracy, color fidelity and spatial resolution. Maxar's image mosaic portfolio also includes Vivid and Metro mosaics, which are the highest resolution global mosaics available commercially. NaturalVue 2.0, Vivid and Metro enable a broad range of geospatial and web-based mapping applications, including military and defense logistics, GIS backdrops, flight simulation, cartographic mapping, 3D visualization and GPS tracking.
NUCI is Maxar's innovative commercial urban change detection product, which highlights areas of new construction activity by isolating changes that persist over time, derived from over 13,000 Landsat images. NUCI enables analysts to rapidly identify areas of urban expansion across the landscape of the continental United States by filtering out noise from seasonal, agricultural and other natural cycles that hamper traditional image-to-image change detection methods. The dataset includes an archive covering nearly 30-years of change.
"The addition of NaturalVue 2.0 and NUCI Esri's ArcGIS Online platform gives thousands of GIS professionals the ability to effectively address complex geospatial problems at a global scale," said Tony Frazier, Maxar's executive vice president of Global Field Operations. "Maxar has hundreds of geospatial analysts certified on ArcGIS. The integration of NaturalVue 2.0 and NUCI expands our strong partnership with Esri and furthers our overarching goal to equip our customers with the ability to easily source, enrich and analyze massive amounts of geospatial data to create a decision advantage."
"Over 350,000 organizations have access to maps in ArcGIS Living Atlas of the World," said Jack Dangermond, Esri founder and president. "We are delighted to continue our close collaborative working relationship with Maxar by adding its National Urban Change Indicator product and NaturalVue 2.0 image mosaic to Esri's platform."
Source: Maxar