NGA to host Geo-Resolution conference April 9
By Loren Blinde
March 28, 2019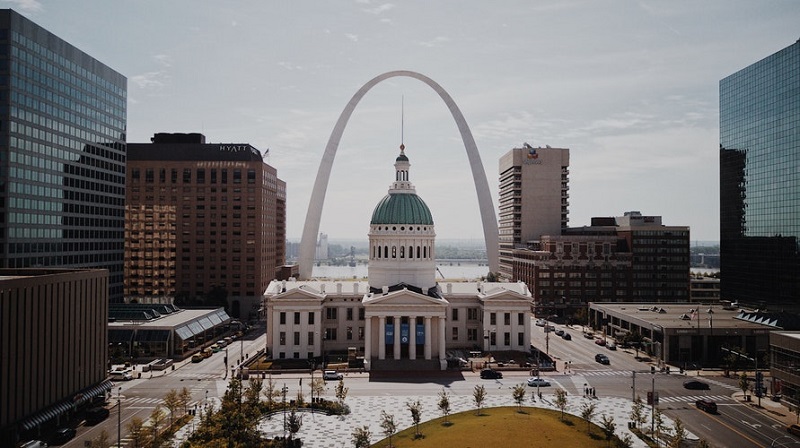 The National Geospatial-Intelligence Agency (NGA) and Saint Louis University (SLU) are co-sponsoring a new geospatial conference in St. Louis to bring together the government, academic and industry partners who are growing the Geospatial Ecosystem in the Greater St. Louis region, NGA announced March 26. The 21st Century Geospatial Ecosystem will require the combined efforts of government, industry and academia to provide the enterprise data and services needed for informed decision-making, increase our knowledge of the world, and to improve quality of life and societal conditions.
"We are pleased to have NGA's new director, Vice Admiral Robert Sharp, who assumed leadership of the agency in February, participating in a discussion with SLU President Fred P. Pestello, Ph.D., on the future of St. Louis. Ms. Kristin Robertson, Vice President and General Manager for Boeing's Autonomous Systems Division, will moderate this lead-off event of the conference.
Mr. Francis Rose, Host of Government Matters TV (ABC) will serve as our Emcee and will lead a discussion with Mark Munsell, NGA's Chief Technology Officer, and Jack Dangermond, founder of Esri, the industry leader in GIS technology, on emerging geospatial technologies and trends.
Governmental leaders scheduled to speak include senior officials of the U.S. Geological Survey (USGS), Dr. Stacey Dixon, the Director of the Intelligence Advanced Research Projects Activity (IARPA), Dr. Lee Schwartz, The Geographer of U.S. Department of State, Ms. Sue Kalweit, Director, Analysis, NGA and Ms. Christy Monaco, Director, NGA Office of Ventures and Innovation.
Our geospatial industry and professional leaders include Mr. Jim Kavanaugh, CEO of World Wide Technology, Mr. Robert Shelton, Jr., Chief Technical Officer and Advisor for Microsoft's National Intelligence Division, Mr. Andy Dearing, CEO of Boundless Spatial, Inc., Dr. Steven Ward, Senior Director of Geospatial and Weather Sciences at The Climate Corporation and Dr. Marie Price, President of the American Geographical Society.
We are also fortunate to have leading academic and non-profit organizations represented at Geo-Resolution 2019. Mr. Jason Hall, CEO of Arch to Park, Dr. Dedric Carter, Associate Provost and Associate Vice Chancellor for Innovation and Entrepreneurship, Washington University, Dr. Dwyane Smith, Provost, Harris-Stowe State University, The Honorable Jeff Harris, Chairman of the Board of US Geospatial Intelligence Foundation (USGIF), and Dr. Annette Sobel, Major General (retired), first Director of Intelligence for the National Guard Bureau, Arlington, VA. and Senior Advisor to Saint Louis University, will participate as panelists, moderators and speakers."
Conference panels throughout the day will discuss:
· Artificial Intelligence and Automation
· Advanced Analytics and Predictive Tools
· Emerging Technologies
· Public/private Partnerships
· Commercialization and Entrepreneurship
· Changing Patterns of Human Settlement and Mobility
Geo-Resolution 2019 Conference Details:
When: 8 a.m. to 3:30 p.m. on Tuesday, April 9, 2019
Where: Saint Louis University's Busch Student Center, 20 North Grand Boulevard, St. Louis, MO 63103
The conference is free and open to the public. Advance registration is required.
Register Today: https://www.eventbrite.com/e/geo-resolution-2019-tickets-57036686264​​ For more information and the full schedule of speakers, panelists and topics, visit slu.edu/research/georesolution2019.
Source: NGA