Logos Technologies demonstrates its Redkite airborne, wide-area sensor
By Loren Blinde
December 3, 2018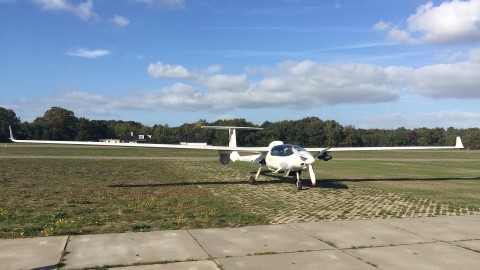 Fairfax, VA-based Logos Technologies announced on November 28 that it successfully demonstrated its Redkite wide-area motion imagery (WAMI) sensor to a large number of representatives from several Defence, Security, Law Enforcement, and Civilian agencies in The Netherlands in partnership with AEC Air Support BV at their Bosschenhoofd airfield. The flights mark the first time any European government officials have seen the lightweight WAMI system in operation.
Housed in a platform-agnostic pod, Redkite has been specifically designed to support a wide variety of defense, border security, public safety, and humanitarian assistance missions. At the AEC Air Support facility, Redkite was integrated onto a Stemme S-15 powered glider in combination with a Wescam MX-15 full motion video (FMV) turret camera, and the complete system was demonstrated for several days.
"The opportunity to partner with such a highly respected company as AEC Air Support, and be able to demonstrate the Redkite WAMI system to so many representatives from different government agencies of The Netherlands was tremendous," said Alan Murdoch, VP of International Programs for Logos Technologies. "Briefing charts can communicate only so much information. For our guests to be able to see how small the Redkite sensor really is, how easy it is to integrate and operate, and how powerful WAMI can be in operation, was invaluable."
Weighing less than 35 pounds (16kg) in the pod format, Redkite continuously images a city-sized area, or 12 square kilometers, in medium resolution, all at once. It automatically processes the images into an orthorectified, georegistered, time-referenced series of images (a "video"), which is refreshed twice a second. This allows WAMI operators to detect and track all significant movers in the entire scene.
The Redkite system can record and archive up to 8 hours of imagery in the airborne sensor pod, as well as provide multiple WAMI operators on the ground immediate access to all imagery—allowing them to perform real time forensic analyses that can uncover previously unknown activities, relationships and/or locations of interest.
Additionally, should an operator need a closer look at a specific location in real-time, Redkite can also semi-automatically task other sensors on the aircraft, such as the FMV turret camera, while continuing to maintain situational awareness of the whole area.
"We are excited to work with Logos Technologies to bring their state-of-the art WAMI sensor capability to our customers here in Europe," said Michel Versteeg, CEO of AEC Air Support BV. "The Logos WAMI technology adds a tremendous complimentary capability to our company's portfolio."
Source: Logos Technologies