Escort vehicle will be purchased by Missile and Space intelligence Center in Alabama
By Loren Blinde
January 7, 2014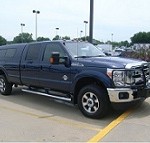 The Missile and Space Intelligence Center at Redstone Arsenal, AL, a unit of the Defense Intelligence Agency, intends to purchase a safety escort vehicle, along with associated safety equipment, from Patriot Resource Systems, LLC, of Evansville, IN.
The escort vehicle will include a 2014 Ford F-250 crew cab and a Lariat interior package, says a notice released on January 6 by the Virginia Contracting Activity, which is handling the contractual details for the Intelligence Center.
The vehicle will be upfitted by Veterans Truck Equipment & Supply Co., also of Evansville, a unit of Patriot.
"Veterans Truck Equipment & Supply Company (VTE), the upfitting and fabrication division of Patriot Resource Systems, is dedicated to the design, manufacture, and distribution of specialty truck equipment for a full spectrum of vocational and municipal applications," says Veterans Truck, on its own Web site. "Our firm represents a select group of the world's finest OEM's, and our focus is to provide our clientele with customized vehicle solutions that provide superior performance.'
Prospective vendors who believe they can compete with Patriot have until January 22 to submit their proposals. "Anticipated date of award is on or around 25 January 2014," says the special notice.