National Intelligence University's advisory panel to meet privately in DC on Jan. 14 and 15
By Loren Blinde
January 7, 2014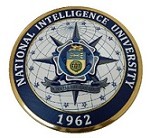 The National Intelligence University's Board of Visitors will hold a closed meeting at the University, which is located at Joint Base Anacostia-Bolling, in Washington, DC, on January 14 and 15.
Among a wide range of topics, all of which will include classified information, the Board will discuss an "outcomes assessment" for the 2013 academic year, the National Intelligence Scholars program, the School of Science and Technology Intelligence, the College of Strategic Intelligence, and the Center for International Engagement.
The meeting on January 14 is scheduled to run from 7 am to 5 pm, while the session on January 15 is slated to run from 8 am to 12 noon, says a notice published in the Federal Register on January 7.
"The Board will discuss several current critical intelligence issues and advise the Director, DIA, as to the successful accomplishment of the mission assigned to the National Intelligence University," says the notice.
Further information is available from Dr. David Ellison, president of DIA National Intelligence University, at 202-231-3344.