DSI to hold Intelligence Exploitation Summit July 23 and 24
By Loren Blinde
July 22, 2019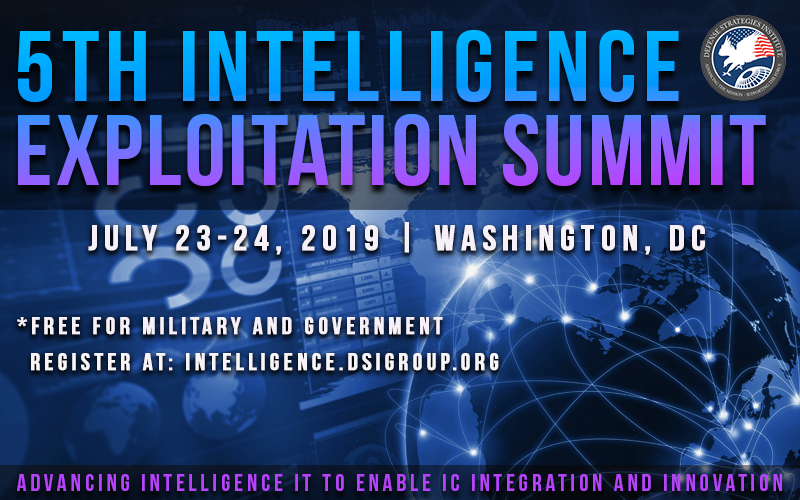 As computing and data mining technologies advance, intelligence agencies must develop new strategies to improve information sharing capabilities throughout the IC. The shift to the cloud has helped create an improved method of data sharing and enhanced way of securing sensitive information, however there are still challenges the IC must overcome. One challenge is the ability to share and process large volumes of data to ensure the right information is being shared to help prevent threats against national security.
Discussions at DSI's 2019 Intelligence Exploitation Summit revolve around the technical challenges of the IC and the creation of interoperable and shared systems. Military intelligence organizations, senior members of the intelligence community and industry partners will convene in Washington, DC for this two-day summit emphasizing the critical need for the rapid acquisition and development of modern data management practices to better secure and share sensitive information.
To this end, the summit will feature senior level-speakers and sessions including:
"Evolving and Expanding IC ITE as it Advances into its Second Epoch" —John Sherman, Chief Information Officer, Intelligence Community, ODNI
"Shifting to Single Cloud Platform to Increase Analyst Insight and Capabilities" —Greg Smithberger, CIO, NSA
"Improving Intelligence Integration Between FVEY Nations" —Maj Gen John Howard, Deputy Director for Commonwealth Integration, DIA
"Advancing DoD Identity Intelligence Capabilities through Policy and Strategy Development" —Thomas Sasala, Director of Operations and Architecture, Chief Data Officer, Army/CIO-G-6
"Initiatives and Strategies for IC Information Sharing at the FBI" —Stephen Laycock, Assistant Director, Directorate of Intelligence, FBI
Panel Session: "Tapping into the Value of OSINT" —Dr. Barry Zulauf, Director, Analytic Integrity and Standards, ODNI
In order to allow for actionable discussion and dialogue among speaker and attendees, seating will be limited. Register now to reserve your seat. Active military, government and state personnel attend complimentary.
Source: DSI Group