Cubic says Bradley Feldmann will take over as CEO on July 1

By Loren Blinde
May 4, 2014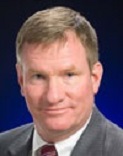 Cubic Corporation announced on May 1 that Bradley Feldmann will succeed current chief executive officer Bill Boyle, effective July 1, as both president and chief executive officer. In addition, Feldmann joined the Cubic's board of directors, effective May 1, 2014.
"Having worked with Brad for many years, I know that he is the right leader at the right time for Cubic"
"Brad is a proven leader with substantial experience in both defense and project related businesses which are core to what Cubic has done for more than 60 years," said Walter Zable, Cubic's executive chairman of the board of directors. "I believe Brad has the vision and skills necessary to lead the company into its next phase of growth and innovation."
Feldmann previously held the position of president and chief operating officer of Cubic Corporation since January 2013, and also served as the president of the companies comprising the Cubic Defense Systems business.
Prior to re-joining the company in 2008, he held senior leadership positions at OMNIPLEX World Services Corporation and ManTech International. Previously, Feldmann had worked at Cubic Defense Applications from 1989 to 1999.
"I am honored, humbled and energized to lead the company during this exciting time," Feldmann said. "I see numerous growth opportunities in the coming years for both Cubic and the greater industry. Since our founding more than 60 years ago, Cubic has thrived on a forward thinking approach and we will continue to innovate and push the boundaries."
"Having worked with Brad for many years, I know that he is the right leader at the right time for Cubic," said Bill Boyle, the chief executive officer of Cubic. "I've had the privilege of working with Cubic's talented employees and senior leadership team, and I know their passion for excellence will only grow stronger under Brad's leadership."
Cubic also announced after July 1, Boyle will assume the role as an advisor to the CEO, supporting Feldmann throughout the management transition. He will also remain on Cubic's board of directors until the next annual shareholders meeting.