Reminiscence: CIA Headquarters named 'George Bush Center for Intelligence' 15 years ago
By Loren Blinde
May 4, 2014

This week marks the 15th anniversary of the CIA Headquarters building being dedicated in honor of George H.W. Bush, former President of the United States and former Director of Central Intelligence (DCI).
On April 26, 1999, thousands of Agency employees, senior officials, numerous former DCIs, family members and friends joined former President George Bush and then-DCI George Tenet in designating the Headquarters compound as the George Bush Center for Intelligence, recalled an article posted recently on the CIA's Web site.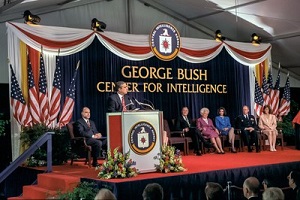 The day's events included a wreath laying ceremony at the CIA Memorial Wall, a reception in honor of the Bush family and an address by former first lady Barbara Bush to the Agency's Family Advisory Board.
During the dedication ceremony, former President Bush remarked, "So, to George Tenet, our great Director and everyone at CIA, all I can say is that the gratitude in my heart literally knows no bounds. I left here some 22 years ago, after a limited tenure, but my stay here had a major impact on me. CIA became part of my heartbeat back then, and it's never gone away."
President Bush remains the only former DCI to go on to become President of the United States.