Air Force ISR Agency seeks weather forecast modeling assistance from a small business
By Loren Blinde
January 15, 2014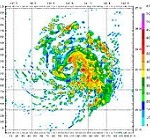 The Air Force Intelligence, Surveillance and Reconnaissance Agency (AFISR) wants to find a small business contractor that can undertake research and help develop enhancements to the "Weather Research and Forecasting" (WRF) model and other mesoscale weather forecasting models.
The goal of this planned small business set-aside contract, under the Air Force's "Advanced Data Assimilation and Mesoscale and Transport & Dispersion" (ADAMTD) effort, is to identify new modeling capabilities that will be relevant to the Air Force Technical Application Center's atmospheric modeling mission.
According to the AFISR, which released a preliminary solicitation notice on January 14, the selected small business will be expected to tackle several tasks, including:
Research, develop, test and evaluate various atmospheric data assimilation methods, including 3- and 4-dimensional variational data assimilation techniques;
 Offer modeling capabilities "to determine climatological opportunities for detection of given sources";
Enhance AFTAC's ensemble mesoscale modeling systems.
The envisioned project will help the Air Force Technical Applications Center to maintain a state-of-the-art ensemble "Numerical Weather Prediction" (NWP) system by improving the accuracy of its simulations and identifying its uncertainties.
"The objective is to obtain meteorological modeling support in an effort to provide incremental improvements to AFTAC's existing meteorological and material transport and dispersion modeling capabilities," explain the AFISR's solicitation document. "These improvements will enable AFTAC to better model the current state of the atmosphere and to better model the transport and dispersion of radiological effluents into the atmosphere."
The agency expects to award a hybrid contract that will include firm fixed price, cost plus fixed fee and cost reimbursement elements for different aspects of the work.
Further information is available from Charlotte Simon, a contract specialist, at charlotte.simon2@patrick.af.mil.