Registration now open for DSI's Intelligence Exploitation Summit
By Loren Blinde
May 17, 2019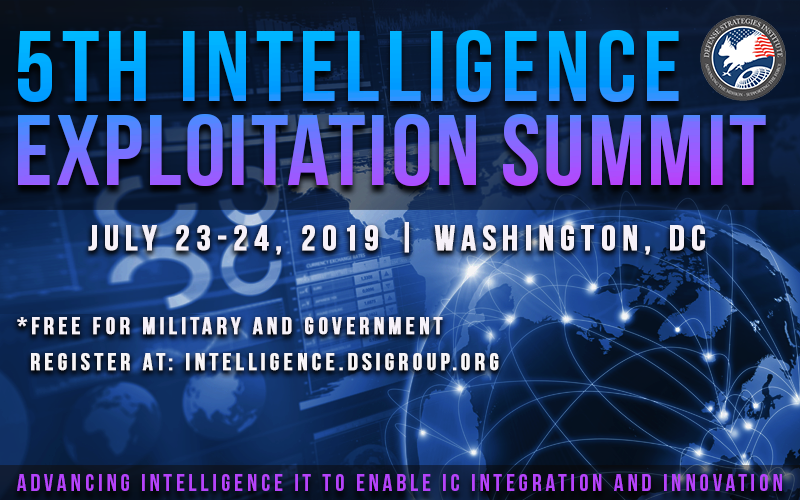 Defense Strategies Institute has announced the 5th annual Intelligence Exploitation Summit, occurring on July 23-24, 2019 at the American Institute of Architects in Washington, DC. This year's summit is designed to bring together members of the Intelligence Community, military intelligence organizations and industry partners to focus on the theme "Advancing Intelligence IT To Enable IC Integration and Innovation".
DSI's 2019 Intelligence Exploitation Summit will focus on integrating intelligence sources to enhance the analysis and exploitation of data to support critical DoD and IC operations and address the continuing efforts of the IC to create shared systems and avoid stove piping actionable intelligence. Session discussions will allow for open and honest dialogue to solve the nation's most difficult technical and strategic challenges.
The 2019 Intelligence Exploitation Summit will feature senior-level speakers including:
John Sherman, Assistant DNI, Chief Information Officer, Office of Director of National Intelligence
Greg Smithberger, Chief Information Officer, NSA
Sean Roche, Assistant Deputy Director of Digital Innovation, CIA
Major General John Howard, Deputy Director for Commonwealth Integration, DIA
Thomas Sasala, Director, Operations and Architecture, Chief Data Officer, Office of the Chief Information Officer/G-6
Stephen Laycock, Assistant Director, Intelligence Directorate, FBI
Dr. Barry Zulauf, Chief of Analytic Integration, ODNI
Compelling Topics to be Covered at the Summit Include:
Current progress of IC-ITE in its Second Epoch
Advancements in fusing information stemming from different sensors and disciplines to develop accurate decisions
Coordinating with partner agencies and allied nations to improve intelligence sharing and exploitation capabilities
IC ITE's role in employing big data tools and leveraging analytics to improve the Multi-INT landscape
Simplifying intelligence computing architectures to increase cyber security
Creating flexible sharing techniques using high performance computers
In order to allow for actionable discussion and dialogue amongst speaker and attendees, seating will be limited. Register now to reserve your seat. Active military, government and state personnel attend complimentary. Those interested in participating in the 5th Intelligence Exploitation Summit can visit Defense Strategies Institute's website at http://multi-int.dsigroup.org/.
Source: DSI Group