Packaging Drives Perception – the Last 18 Inches
By Loren Blinde
December 15, 2020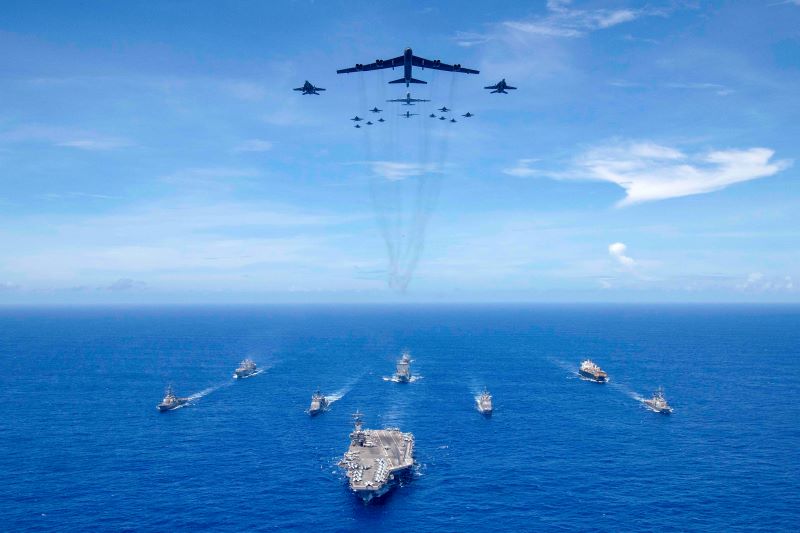 From IC Insider OpenText
By Tom Chapin, Global Public Sector Lead, Enterprise Presales at OpenText
Hearing from your customer (even the old ones) is a good thing. I'm a former US Navy F/A-18 pilot and one of those old customers of the US intelligence community. I work now for OpenText as the Public Sector Industry Lead. In this capacity, my mission is twofold – #1 help OpenText understand the needs of public sector and #2. help public sector understand the solutions OpenText has to offer. This article will support #2.
In 1990, I rotated off of sea duty just as the first Gulf War was getting started.  My family was thrilled but I was professionally (and selfishly) frustrated.  I had trained for 8 years and wouldn't get to validate my skills – c'est la vie (as my Mom would say).  My new shore duty assignment was the Strike Fighter Weapons School Atlantic at Cecil Field, FL.  I would be teaching tactics and weapons to fleet F/A-18 pilots.  It was during this time that I developed a lifelong interest in how information is received and processed by our sensory systems to enable sensemaking and decision-making.  My interest was the was the F/A-18 cockpit. Over time that interest has applied to any occupation where making sense and making good decisions were important.  This is the very challenging 18 inches of travel between the display and the human.
As I've watched the continued development of the F/A-18 over the past 30 years, it tells a broader story of how information and processes are changing. In the below diagram, the F/A-18 A/C model cockpit on left, and the newer E/F Block III model on right.  Three monochromatic CRTs vs. a single 10×19 color touchscreen.  Which would you rather use?
Figure 1-F/A-18A/C Cockpit
Three separate CRTs with buttons
Figure 2 – F/A-18E/F Block III Cockpit
Single 10×19" Touchscreen
How might we design a business cockpit for today? I would propose the following framework to correlate information business sensemaking and decision-making.  Yes (of course), it has OpenText at its center but it's really an information story.  Let's first look at each piece individually – starting in upper left and working counter-clockwise.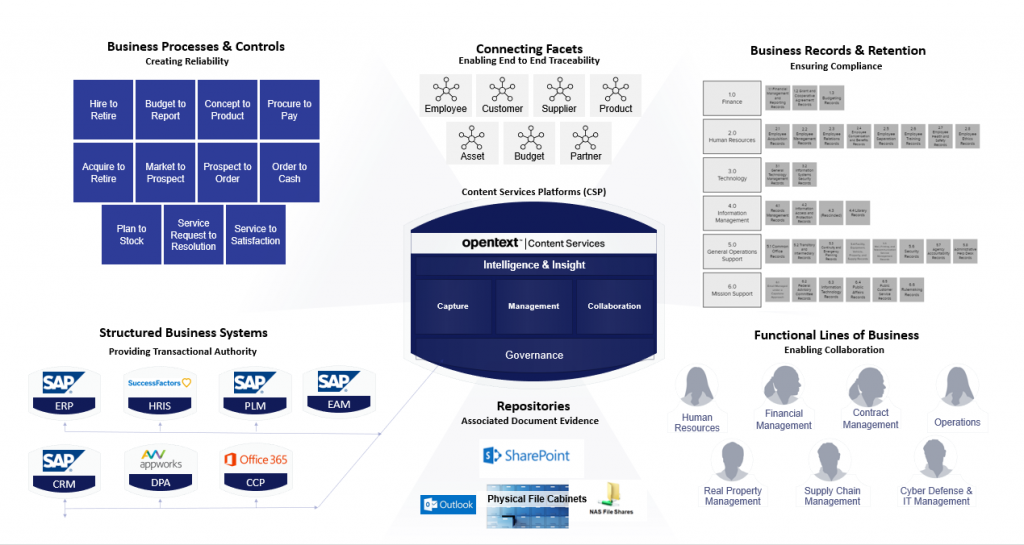 Business Process & Controls – the highest-level flows happening in both commercial and public sector enterprises. These flows are used by financial auditors to test and validate the effectiveness internal controls rendering that coveted 'clean audit'. Documenting the controls and processes within these flows increase businesses efficiency, reliability, and predictability.
Structured Business Systems – the transactional (rows & columns) data systems often categorized as Enterprise Resource Planning (ERPs), Human Resource Information System (HRIS), Product Lifecycle Management (PLM), Enterprise Asset Management (EAM), Customer Relationship Management (CRM), Digital Process Automation (DPA) and Content Collaboration Platform (CCP). These systems are often functionally designed in silos that inhibit the sharing and reuse of data across functions.
Repositories – the digital and physical file storage containers of documents and transactional evidence (records) related to the processes and structured business systems. These repositories are often as fragmented as the structured systems they support. A record within a repository could be as specific as an invoice or as broad as a signed Program Decision Memorandum (PDM).
Functional Lines of Business (LOB) – how people and teams are organized and managed – usually in silos depending on functional role. These different functional roles serve as actors fulfilling steps within different business processes. These functions often have their own siloed repositories.
Business Records & Retention Schedules – the records management file and retention schedule. How long do you hold a contract before disposing it?  What records are under litigation and subject to legal hold that suspends their disposal?
Connecting Facets – the 'secret sauce' – the atomic level data objects that 'join' and 'connect' information. Using common content service layer and metadata from these facets, it possible to complete an end-to-end journey across connected processes.
Content Services Platform (center of diagram) – this is where the data and documents come together to manage capture, collaboration, governance, and insight (sensemaking & decision making).
Here's an example from Navy Medicine: a team member needs a new piece of equipment (MRI Machine) the action has three supporting business flows: Procure to Pay (P2P), Acquire to Retire (A2R) and Service Request to Resolution (SR2R). The P2P and A2R merge and connect the government receiving dock as the equipment is delivered and begins its life as a managed asset.  The SR2R starts once the equipment is in service.  For the Finance function and Audit team, this falls under the Property, Plant and Equipment (PPE) section of the organization's annual financial report.  The vendor logos within the Structured System and Repository rows are examples only.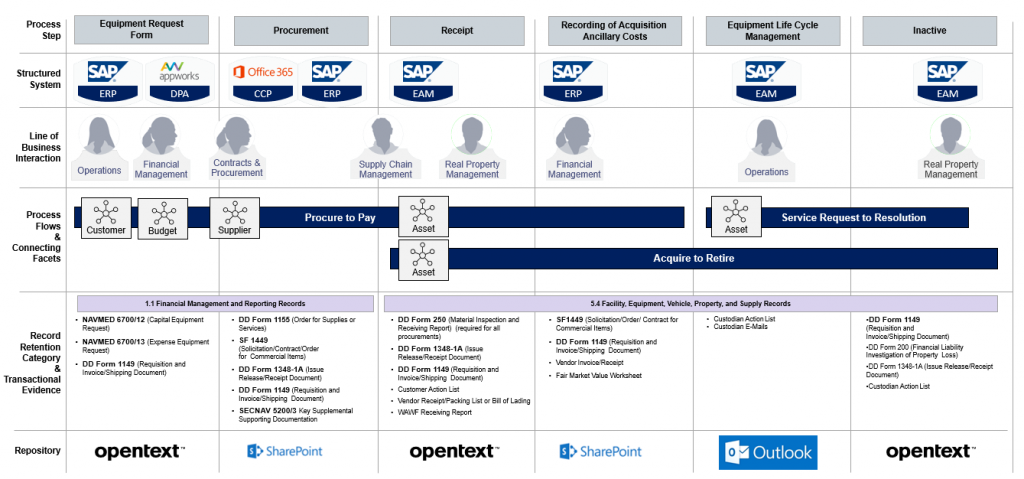 In our next article we'll look at the Connected Workspace – a 'cockpit' approach and method of leveraging metadata to bring process, structured system data, documents, and people from different LOBs into that single touchscreen we've all been looking for. Always looking bigger picture of how information can be packaged to better represent sense-making and decision making.
Please reach out to me on LinkedIn to connect and continue the conversation.
+++++++++++++++++++++++++++
About OpenText
OpenText, The Information Company™, enables organizations to gain insight through market leading information management solutions, on-premises or in the cloud. For more information about OpenText visit www.opentext.com/publicsector.
About IC Insiders
IC Insiders is a special sponsored feature that provides deep-dive analysis, interviews with IC leaders, perspective from industry experts, and more. Learn how your company can become an IC Insider.