James Miller, former under secretary of defense for policy, joins Endgame's advisory board
By Loren Blinde
April 9, 2014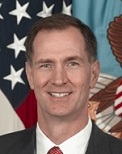 Endgame, Inc., a venture-backed provider of security intelligence and analytics solutions that give enterprises real-time visibility and actionable insight across their digital domains, announced on April 8 that former U.S. Under Secretary of Defense for Policy, Dr. James Miller, has joined its advisory board.
Advisory board members lend their vision and expertise to Endgame's leadership, as the company develops solutions that address a wide array of security problems for federal and commercial customers.
Dr. Miller is currently president of Adaptive Strategies, LLC, which provides consulting on strategy development and implementation, national security and technology issues. As under secretary of defense for policy from May 2012 to January 2014, he served as the principal civilian advisor to the secretary of defense on strategy, policy and operations, and as the Defense Department's deputy in the National Security Council process for policy development and crisis management.
"I've seen first-hand the importance of strong cyber security and secure digital infrastructure to our nation's defense, and I look forward to advising the Endgame team as they continue to build technologies and tools to tackle some of the toughest problems faced by both government and the private sector in the digital domain," said Dr. Miller. "I'm excited to have the opportunity to engage with Endgame's leadership as the company works to develop new ways to help strengthen cyber security."
"Jim combines long-term strategic vision with practical experience working at the highest level of the federal government, and his guidance will be invaluable to us as we continue to build products that better address our customers' most challenging security needs," said Endgame CEO Nate Fick. "I am honored that Jim has joined us as an advisor, and I look forward to working with him as we widen our reach in both the federal and commercial space."