Embry-Riddle University to dedicate Glen A. Doherty Center for Security & Intelligence Studies
By Loren Blinde
April 9, 2014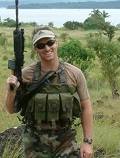 In memory of Embry-Riddle Aeronautical University graduate Glen Doherty, the Prescott, AZ, campus will dedicate the home of the nation's first college of security and intelligence in his honor during a special ceremony on April 10.
By naming the institution the Glen A. Doherty Center for Security & Intelligence Studies, the college pays homage to the former Prescott Campus student.
Doherty was a highly decorated U.S. Navy SEAL, serving multiple combat deployments and co-authoring the book The 21st Century Sniper. He was also an accomplished pilot. Along with three others, security specialist Doherty was killed Sept. 11, 2012, in an armed assault on the U.S. diplomatic mission in Benghazi, Libya.
Guest speaker at the ceremony will be Maury Gralnek, president of the Association of Former Intelligence Officers (AFIO) of Arizona.
"We are proudly naming this new facility for Glen to honor his sacrifice and to emphasize the urgent and growing need for highly skilled professionals in risk assessment, counterterrorism, cybersecurity, forensics, and global security and intelligence," said Dr. Philip Jones, dean of the College of Security & Intelligence.
Glen Doherty's brother, Greg Doherty, will be a special guest at the ceremony.