Global Air Order of Battle Monitoring
By Loren Blinde
March 13, 2023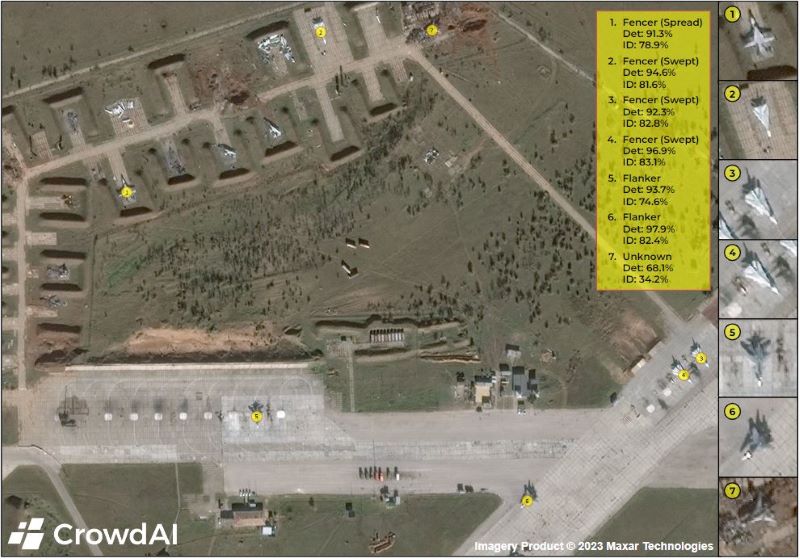 From IC Insider CrowdAI
San Fransicso, CA-based CrowdAI, the leader in code-free AI enablement tools for computer vision, is proud to announce its latest innovation: globally-scalable aircraft identification from satellite imagery. A breakthrough approach now enables a single model to detect and ID a massive catalog of global military and civilian aircraft. Importantly, the list of recognizable aircraft can be augmented in minutes from as few as a single image. Without having to curate and label thousands of examples of each aircraft to train a CV model, for the first time, automating airport monitoring, globally, is a commercial reality and a national security boon.
The traditional CV approach for Air Order of Battle (AOB) would be to create a multi-class aircraft classification model, which requires curating and labeling thousands of examples of each airframe for every sensor. Quickly, the scale of the problem becomes apparent. Not only is the gathering and labeling of data a herculean task, but finding personnel capable of correctly tagging Su-25, Il-76, COKEs, and CURLs, etc., means a lot of training and quality checks. A lot. Those limitations have kept AOB narrowly scoped, likely ignoring far more airports than were being monitored. CrowdAI's novel approach not only achieves analytic performance expectations, but scales globally with relatively minimal effort.
The time it takes to add new aircraft to the catalog is measured in just minutes, rather than the weeks or months that it would take following other widely-accepted approaches considered state-of-the-art. CrowdAI fuses time-tested GEOINT methodologies with deep-learning; the combination of which is performant computer vision that can detect any aircraft. What's more, that same model can correctly identify those aircraft after learning from only a single example.
(Note: On account of using GEOINT methodologies to derive target identification, this approach is extensible to other orders of battle, e.g., navy and ground forces).
The tool is currently in operational use, flowing data through CrowdAI's automated prediction pipelines, which pull imagery over targets, run inference, and push model outputs into a common operating picture. Free to concentrate on collection strategy and analysis, our users can "set it and forget it."
Following GEOINT "first principles," there is no practical limit to the scalability of CrowdAI's approach to automating AOB analysis. Rather than slog through massive amounts of data labeling and the what, when, and where of foreign air operations, CrowdAI-empowered analysts can focus on the why and what's next that are critical to maintaining information dominance and decision advantage.
To learn more about this game-changing technology and how it can support your mission, please visit us at www.crowdai.com or contact us at federal@crowdai.com.
About CrowdAI
CrowdAI offers the leading software platform to build customized computer vision (CV), enabling anyone to create high quality CV models to analyze imagery and video—no data science background or coding required. Our full-stack solution provides all the tools necessary to go from raw pixels to structured insights relevant to your specific needs. CV models created via CrowdAI's software platform, have been used for ISR, humanitarian assistance and disaster response, countering illicit trafficking, infrastructure maintenance, public health monitoring, medical diagnostics, and beyond. Visit CrowdAI at www.crowdai.com.