Founder rejoins EdgeWave to lead cyber security innovation
By Loren Blinde
November 24, 2014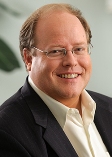 EdgeWave®, a San Diego, CA-based cyber security firm, announced the appointment of Farley Stewart as vice president of product management on November 24.  Mr. Stewart is rejoining EdgeWave after a decade of driving cyber security innovation at multiple organizations.
Mr. Stewart was the CEO and founder of Internet Products Inc., which created iPrism Web Security, one of the first Web security appliances. Internet Products Inc. was acquired by EdgeWave, formerly known as St. Bernard Software, in 2000.  After overseeing the acquisition, Mr. Stewart transitioned to product management, product marketing, and business development roles at McAfee and Websense, shaping product strategy and execution.
"EdgeWave is extremely fortunate to add someone of Farley's caliber to our executive team," said Dave Maquera, EdgeWave CEO & president.  "He is a proven innovator in the cyber security space, and we're thrilled to have him back with EdgeWave, leading the fight against cybercrime through the continued development of EdgeWave military-grade cyber security solutions."
Mr. Stewart will be responsible for shaping and shepherding product vision and strategy for EdgeWave EPICTM cyber security solutions.  EdgeWave EPIC combines both artificial and human intelligence with military-grade cyber operations to protect businesses against sophisticated attacks.
"I'm excited to rejoin EdgeWave and shape the roadmap of tomorrow's cyber security solutions," said Mr. Stewart.  "Most businesses don't have IT staff with the operational security expertise or resources to stop today's hackers.  EdgeWave military-grade cyber security is essential to protect organizations from sophisticated adversaries."
SOURCE EdgeWave