DHS S&T announces tech partnership with Republic of Korea
By Loren Blinde
October 24, 2019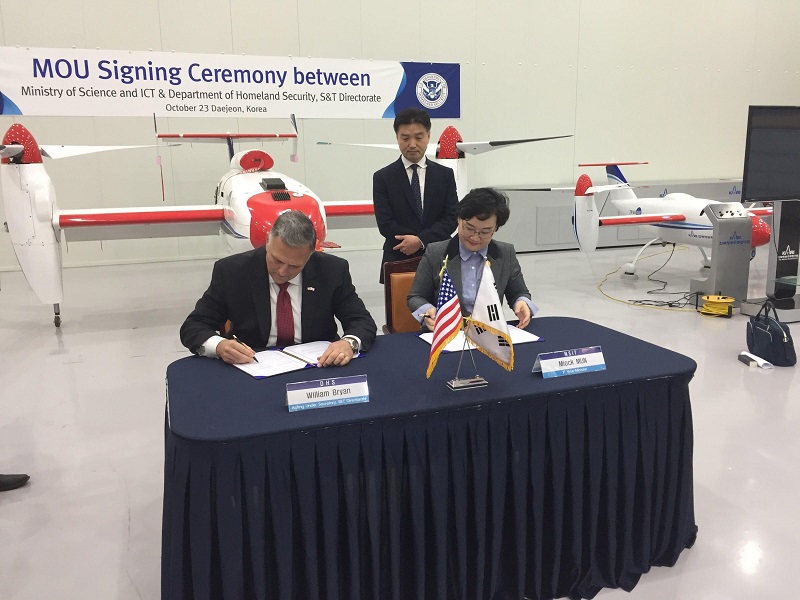 On October 24, the United States and the Republic of Korea entered into a bilateral partnership for deeper cooperation on science and technology research and development of solutions to disasters such as fire, storm, flood and earthquake and issues closely related to public safety such as security and infectious disease. The agreement between the U.S. Department of Homeland Security (DHS) Science and Technology Directorate (S&T) and the Republic of Korea's Ministry of Science and Information Communication Technologies (commonly referred to as the Ministry of Science and ICT or MSIT) was confirmed in a signing ceremony of a Memorandum of Understanding (MOU).
"This is a great opportunity to discuss mutual challenges, shared priorities, and joint opportunities that will yield benefits and positive impact to our citizens," said William Bryan, DHS senior official performing the duties of the undersecretary for science and technology. "Both of us bring a wealth of technical expertise and creative insights, which collectively can help achieve better informed decisions on where research and development investments can and should be made."
Mr. Bryan signed the MOU with his counterpart, First Vice-Minister of the Ministry of Science and ICT, Dr. Mun Mi-ock.
Dr. Mun highlighted the importance of science, technology and ICT in raising technology investments to the world's highest standard, enhancing national competitiveness and fostering economic development so that citizens can lead a safe life. She also expressed high hopes for exchanges and cooperation between Korea and the U.S. to be further promoted in a variety of sectors.
The goal of the partnership is to promote substantial cooperation in the future through working-level collaboration in the form of joint research, researcher exchanges, and conferences between relevant organizations of both countries such as research institutes, universities and R&D related public agencies. The MOU encourages direct contacts between scientific and technological institutions and organizations, including governmental institutions, national funding bodies, institutions of higher education, science academies, and national centers for scientific and technological research.
The signing of this MOU established Republic of Korea as DHS S&T's 13th Bilateral Partner, and the first new partner since 2013. It also serves as the initial step (agency-to-agency) towards the end goal of a government-to-government agreement.
Source: DHS S&T