CIA posts next installment of declassified reports
By Loren Blinde
October 17, 2018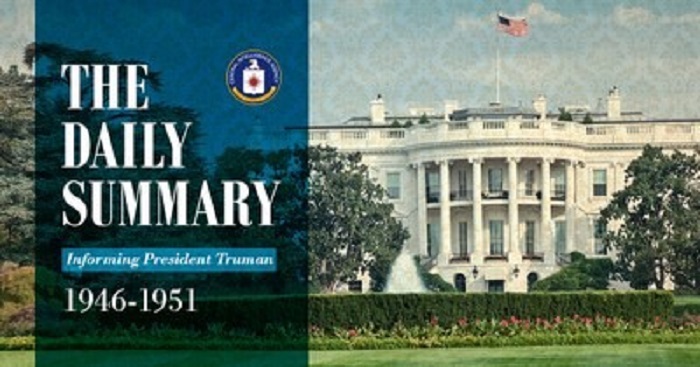 On October 15, the Central Intelligence Agency (CIA) released the third of six sets of declassified daily intelligence reports President Harry Truman received from CIA and its predecessor organization, the Central Intelligence Group. Known then as the Daily Summary, the product continues now as the President's Daily Brief.
Today's release, totals 887 pages of Daily Summary reports from 1947—the year the United States unveiled its strategy for countering the expansion of communism, later known as the Truman Doctrine. Other topics featured in these summaries from 1947 include, the political and economic chaos in Greece, the scramble to secure petroleum supplies across the world, and an arms race in Palestine.
The next mid-monthly installment of "The Daily Summary: Informing President Truman" will be available in November with a subsequent release each month through January 2019. The entire collection totals more than 3,000 pages and includes intelligence provided to President Truman on topics spanning from the Berlin Airlift to the Chinese Revolution and the Korean War.
To read more of these declassified intelligence reports, check out the first and second installments.
Source: CIA