Bohemia Interactive Simulations wins Army STE OTA
By Loren Blinde
October 18, 2018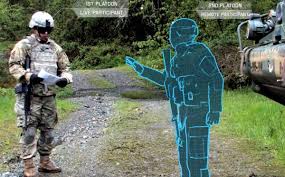 The U.S. Army has awarded Bohemia Interactive Simulations (BISim) an Other Transaction Authority (OTA) extension to demonstrate technologies for a cloud-enabled, virtual world training capability to meet the requirements of the Army's revolutionary Synthetic Training Environment (STE) initiative, the Orlando, FL-based company announced October 16.
STE aims to converge virtual, constructive and gaming training environments into a single unified architecture. This ambitious project will enable simulation systems Army-wide to leverage a persistent virtual world for any imaginable training need, including support for multi-domain operations incorporating cyber and space. Central to STE is a cloud-enabled One World Terrain (OWT) that will let warfighters conduct virtual training and complex simulations anywhere on a virtual representation of the Earth. OWT will leverage cloud technologies to deliver to the point of need, ensuring a common and high-fidelity whole-Earth terrain representation for a multitude of different simulation systems.
"The U.S. Army's vision for STE marks a monumental change in how they acquire, develop and deliver new simulation and virtual training technologies to soldiers," said Pete Morrison, BISim's co-CEO and chief product officer. "We're honored to be selected to assist the Army in developing innovative solutions that will shape the future of how virtual training is used to enhance operational readiness."
BISim has been developing its next generation of simulation technologies since 2014. The new technology suite includes a cutting-edge, military-specific whole-earth game engine, deterministic AI, an efficient geospatial terrain server and component-based development technology. BISim technology underpins funded research and development for One World Terrain, additionally, BISim recently demonstrated Reconfigurable Virtual Collective Trainer (RCVT) prototypes for STE. The latest OTA extension is a significant ramp up in the breadth and ambition of the technology being demonstrated, the company said.
Source: BISim