AeroVironment announces solar HAPS milestone
By Loren Blinde
April 29, 2019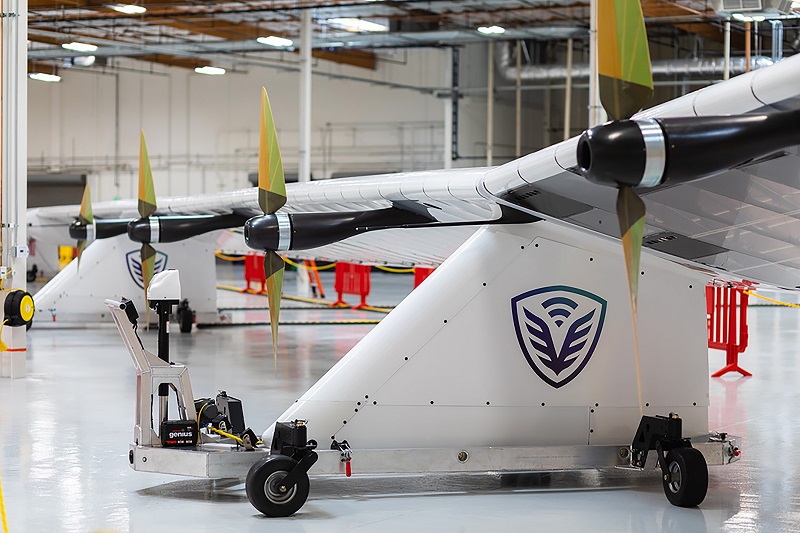 AeroVironment, Inc. of Monrovia, CAannounced on April 25 the achievement of a significant solar HAPS project milestone, the assembly of the first HAWK30 solar HAPS for its HAPSMobile joint venture with SoftBank Corp. HAPS stands for High-Altitude Pseudo-Satellite or High-Altitude Platform Station.
"AeroVironment recently rolled-out the first HAWK30 for our HAPSMobile joint venture, initiating a new phase of our design, development and demonstration program and the promise of a new era for global connectivity," said Wahid Nawabi, AeroVironment president and chief executive officer. "The result of decades of experience developing and flying solar HAPS, our team designed, developed and assembled the entire HAWK30 in only 24 months. This is very rapid for a HAPS of such large size and significant payload capacity."
Developed and assembled in AeroVironment's HAPS Innovation Center, the HAWK30 has a wingspan of approximately 260 feet and is propelled by 10 electric motors powered by solar panels covering the surface of the wing, resulting in zero emissions. Flying at an altitude of approximately 65,000 feet above sea level and above the clouds, the HAWK30 is designed for continuous, extended missions of up to months without landing.
HAPSMobile recently increased the ceiling value of the Design Development Agreement with AeroVironment by $39 million, to a total of $126 million.
"We are making great progress on this program and look forward to sharing future achievements with our shareholders and potential customers. We are excited to debut our next generation HAPS as we advance this strategically important project for HAPSMobile and for AeroVironment," added Nawabi.
Source: AeroVironment