USAF Major General Michael Guetlein becomes NRO deputy director
By Loren Blinde
July 10, 2019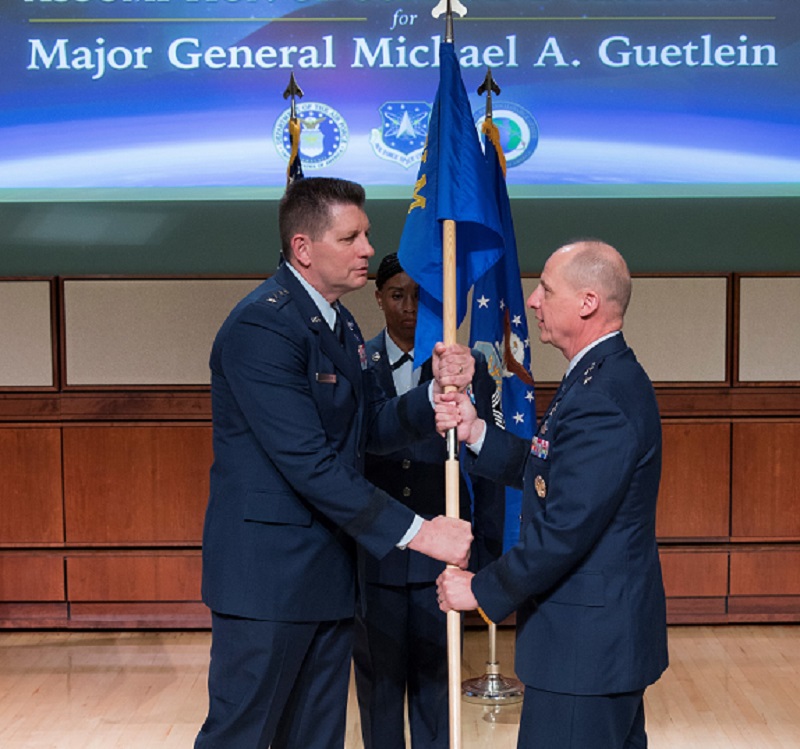 The National Reconnaissance Office (NRO) welcomed U.S. Air Force Major General Michael Guetlein as the agency's new deputy director during an Assumption of Command ceremony July 8 at its headquarters in Chantilly, VA, the agency announced July 9.
Citing Maj. Gen. Guetlein's background and experience, Lieutenant General David D. Thompson, vice commander, U.S. Air Force Space Command, said Maj. Gen. Guetlein "is the perfect person to join the NRO and lead the Air Force element as we face the warfighting challenges of today and the future."
"Mike is a man with an impeccable record and undeniable leadership skills," said Lt. Gen. Thompson. "His vision, experience and confidence will leave a lasting impact on the element and will serve each of you as Airmen well, as well as the leadership of the NRO."
Lt. Gen. Thompson, who served as the ceremony's presiding officer, also highlighted the national security contributions of the NRO and the Air Force element assigned to the agency.
"This unit has continuously demonstrated the high standards and expertise expected of both the NRO and Air Force Space Command," said Lt. Gen. Thompson.
As deputy director, Maj. Gen. Guetlein assists the director in managing the strategic and tactical operations of the NRO. Additionally, he serves as commander, Air Force Space Command Element, where he manages all Air Force personnel and resources assigned to the agency and acts as the senior advisor to the NRO's director on all military matters.
"I have always admired the NRO in many ways; I've admired the mission, the global situational awareness and making sure we provide information to our national security decision makers in real time," said Maj. Gen. Guetlein during Monday's ceremony. "No one else on the planet can do what the NRO does. It's a huge privilege to be standing up here in front of you today, and I'm very excited to be here."
Prior to joining the NRO, Maj. Gen. Guetlein served as the program executive for Programs and Integration at the Missile Defense Agency.
Source: NRO