U.S. Navy sailor gets 30-year sentence for espionage attempt with 'Russian agents'
By Loren Blinde
March 17, 2014

As a sailor with a top secret clearance, a sensitive job on a submarine, and 20 years of service in the Navy, Robert Hoffman possessed a tremendous amount of knowledge about the U.S. nuclear fleet and its operations — knowledge he was willing to sell to the Russians.
The FBI posted a feature article about Hoffman's exploits — and his eventual undoing — on the Bureau's Web site.
"It's almost impossible to say why someone would become a spy," said Special Agent James Dougherty, who investigated the case from our Norfolk Division, but Hoffman represents a classic example of the insider threat. "When a U.S. citizen with classified information threatens to betray his country," Dougherty explained, "the resulting damage to national security and loss of American lives can be catastrophic."
Robert Patrick Hoffman, II, 40, of Virginia Beach, VA, was sentenced on Feb. 10 to 30 years in prison for attempting to commit espionage against the United States.
Investigators speculate that Hoffman may have blamed his divorce on the Navy, along with his failure to gain promotion. The FBI and the Naval Criminal Investigative Service (NCIS) became concerned in 2011 when, nearing retirement, Hoffman told friends he was going on a "man-cation" to Belarus to see Russian women he had previously met when he was stationed in Bahrain — even though he knew the women would not be there.
"He had some sort of motivation to travel to Belarus that didn't seem logical," said Dougherty. In addition, Hoffman ignored the requirement to alert military security officers that he would be traveling out of the country, and he failed to adhere to other security rules of reporting any suspicious incidents while overseas. However, Hoffman did post items on social media channels saying he met the president of Belarus. "All of that added to our suspicion," Dougherty noted, according to the FBI article.
Using court-authorized surveillance, wiretaps, and other investigative tools, FBI and NCIS investigators began monitoring Hoffman's movements at his home in Virginia Beach following his retirement from the Navy in late 2011. Soon after, FBI undercover operatives made contact with him to assess his intentions.
Then, in September 2012, a female FBI undercover agent posing as a Russian operative knocked on Hoffman's door and delivered a message ostensibly from Russian intelligence officials.
"He received instructions from the woman, who asked him to respond by e-mail within one week," Dougherty said. "We didn't want to pressure him. We wanted him to make a conscious decision, knowing he would be dealing with the Russian intelligence service."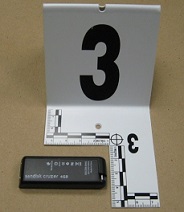 Hoffman didn't wait a week — he responded within hours. He agreed to answer a series of questions on an encrypted thumb drive that was to be left in a hollow tree in a park — a hiding place known in the spy world as a dead drop. On the third such drop, Hoffman divulged top secret national defense information.
"American lives could have been lost based on the information he was willing to give up," Dougherty said. "He had access to things that were highly, highly sensitive."
In August 2013, a jury in Norfolk found Hoffman guilty of attempted espionage; last month, the 40-year-old was sentenced to 30 years in prison.
"The insider threat is very real," said Dougherty, explaining that in these types of cases, there are often people who are suspicious of a friend or colleague's statements or behavior but who don't act on those suspicions.
"One of the things we teach in insider threat training," Dougherty said, "is that if you see something, say something. Often, people don't want to rock the boat," he added, "but if you see something that doesn't seem right, it's your legal obligation to report it. Let the FBI sort it out. That's what we get paid for."