Teledyne announces leadership changes
By Loren Blinde
October 25, 2018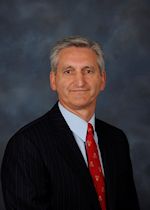 The board of directors of Thousand Oaks, CA-based Teledyne Technologies Incorporated announced October 23 that Robert Mehrabian will be named executive chairman, effective January 1, 2019. As executive chairman, Mehrabian will remain actively involved with the company with a particular focus on strategy, technology, mergers and acquisitions and margin expansion programs.  Mehrabian's employment contract has been amended and extended an additional four years to December 2023. In addition, Teledyne's president and chief operating officer, Al Pichelli, will assume the title of president and chief executive officer. Pichelli has entered into an employment agreement through December 2021.
"After nearly 38 years of operational leadership and integration of all of Teledyne's 59 acquisitions, I want to congratulate Al on his well-deserved promotion to CEO," said Robert Mehrabian, chairman and chief executive officer. "Al and I will work side by side, leading the development and execution of Teledyne's growth strategy."
"Our entire board is delighted that Robert and Al will continue to serve as Teledyne's leadership for a number of years," said Charles Crocker, lead director of Teledyne's board of directors.
Teledyne also announced today the following promotions. Jason VanWees, current senior vice president, Strategy and Mergers & Acquisitions, will become executive vice president with responsibilities including strategy, margin improvement programs and mergers & acquisitions. Stephen Blackwood, current vice president and treasurer, will become senior vice president and treasurer, overseeing all banking, procurement and treasury functions. VanWees will continue to report to Mehrabian, and Blackwood will report directly to Mehrabian on procurement initiatives, effective January 1, 2019.
Source: Teledyne