Raytheon receives contract for Advanced Countermeasures Electronic Systems (ACES)
By Loren Blinde
December 30, 2013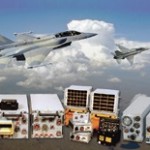 Raytheon Company announced on December 30 that it has been awarded a not-to-exceed $70 million firm-fixed-price contract for various full Advanced Countermeasures Electronic Systems (ACES) and Line Replaceable Units (LRU) to support in-country spares, software sustainment, and other activities at Warner Robins and Eglin Air Force Bases.
This award supports foreign military sales for Morocco, Egypt and Iraq. Work will be performed at Goleta, CA, and is expected to be completed March 2017, according to a Raytheon news release.
Raytheon's Advanced Countermeasures Electronic System is a fully integrated electronic warfare (EW) suite with robust situational awareness and powerful jamming capabilities, says the company on its Web site. ACES represents a modern EW digital technology, which provides a secure electronic shield against anti-aircraft missiles and threats from enemy radars.
Designed to detect, identify and counter contemporary threats in a high density environment, ACES integrates Raytheon's ALQ-187(V)2 jammer, the ALR-93 radar warning receiver and the ALE-47 countermeasures dispenser system — offering an effective and dependable advanced electronic countermeasures self-protection system for the F-16, says the company.
Built on a legacy of EW suites for the F-16 platform, including Raytheon's Advanced Self-Protection Integrated Suite (ASPIS and ASPIS II), ACES reflects the next generation of advanced EW for the F-16. Legacy efforts and core elements of ACES have proved highly effective against real threats in acceptance flight trials, combat exercises and spontaneous defense of sovereign territory.