Privacy and civil liberties panel to meet a few days after Obama's speech at the Justice Department
By Loren Blinde
January 16, 2014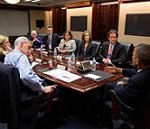 As much of official Washington is awaiting President Obama's speech at the Justice Department on January 17, in which he will try to strike a balance between national security and individual privacy, the Privacy and Civil Liberties Oversight Board, which was established in 2007 to do much the same thing, has scheduled an open meeting on January 23.
The panel's session, from 1:00 to 2:00 PM, will be open to the public, and convened in room 309 at the Marvin Center at George Washington University in Washington, DC.
The privacy and civil liberties group will take a vote on the issuance of its report on the surveillance program operated under Section 215 of the USA PATRIOT Act as well as the operations of the Foreign Intelligence Surveillance Court, says a Federal Register announcement. The president is likely to discuss both of those topics in his remarks at the Justice Department.
Information about the privacy and civil liberties panel is available at its Web site.
No pre-registration is required by individuals planning to attend. Further information is available from Susan Reingold, chief management officer, at 202-331-1986.