The FAA automates analytics to accelerate fleet management and address the Zero Emission Vehicle Executive Order
By Loren Blinde
December 1, 2022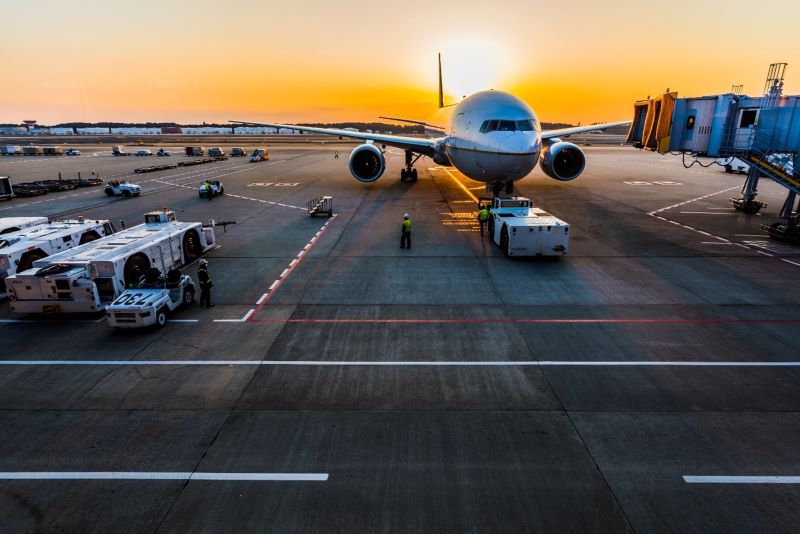 From IC Insider Alteryx
By Andy MacIsaac, Alteryx; Sherif Said, eSolytics; and Mark Trosper, eSolytics
The Federal Aviation Administration (FAA) like all US Federal Agencies was mandated by an Executive Order from the Biden Administration to transition their fleets of road vehicles to Zero Emission Vehicles (ZEVs) by 2035, with the replacement of non-specialized light duty cars and trucks by 2027. For the FAA this means building more insight on vehicle type, age, physical garage location, fiscal disposition, fuel and maintenance costs across a fleet of 4500+ vehicles.  Before the introduction of eSolytics an Alteryx partner and analytic automation through the Alteryx platform, the FAA Fleet operations team was stuck manually processing and reporting on hundreds of thousands of data points, often sharing data via email and processing analysis via spreadsheets. spreadsheets.
Thousands of vehicles, several sources of data, hundreds of thousands of data points
To manage its fleet operations the FAA needs to integrate data from multiple sources such as the GSA fleet management system, property data and DELPHI and multiple ERP systems to manage hundreds of thousands of data points from its fleet data dispersed across the United States.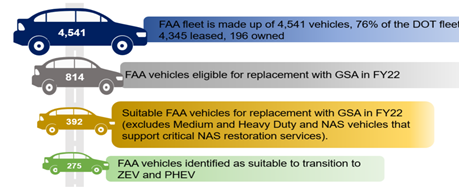 To keep the nation flying the FAA uses a fleet of vehicles to inspect airport facilities such runways, towers and terminals all which are critical to national aerospace operations. The federal government released a zero emissions mandate to all cabinet level offices in 2021. Managing this expansive fleet requires high visibility and extensive data analysis.
When faced with the mandate to begin determining eligibility for transition over to ZEVs the agency was faced with managing the data from Excel and manually completing reviews on thousands of vehicles and the processes around communication and data sharing between agency and regional FAA teams, and the FAA headquarters was largely managed by email and phone calls. The fleet office would have to reach out to the vehicle owners manually to track mileage and conditions of vehicles.  This process was a major source of duplicated effort and increased the likelihood of mistakes, or decision-makers working with outdated information. To help streamline this process the FAA developed a fleet dashboard, where all vehicle data, charging stations and locations was all visible in a single location. Although this eliminated most of the email traffic, it had several data quality control issues because the data input was still manual and it still took weeks compile data for reports.
Automation to centralize reporting and insight
eSolytics working directly with the FAA Fleet team, began by looking at the logic flow of data through its multiple systems and formats. Using Alteryx the eSolytics team was able to integrate all the multiple data sets and join them into a dashboard. The flexibility of Alteryx enabled the FAA to shift from a push model to a pull model; where the new process would only have to pull information from the GSA Fleet application when there were updates to process.  For example, if garage information changes for a vehicle, the data pulls the new information and updates the dashboard, associated reports and the geospatial analysis related to vehicle location.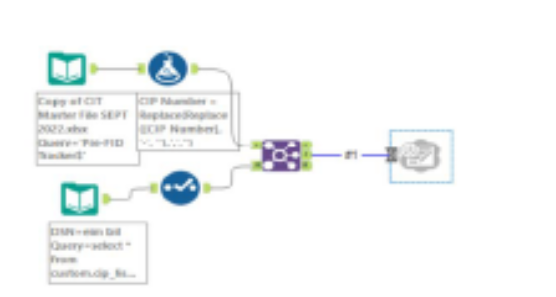 3 reasons the FAA chose Alteryx:
1 – Automated data processing from multiple sources
2 ­­– Data Accuracy for reporting to users across the organization
3 – Highly flexible workflows that adapt to unexpected events
Going deeper with automated reporting and visualization across the agency
After the success of the initial data integration, the FAA expanded the dashboard functionality to include related vehicle financial data. This allowed for greater insight into cost for each line of business and the identification of problem areas that were costing the agency too much money in vehicle repairs or maintenance.
Working with Alteryx also gave the FAA the opportunity to create a new reporting capabilities. Analyzed data now could now be published automatically to a customizable Tableau dashboard, with options to segment the view at national, regional, or even individual line of business levels. This helps the FAA's fleet team accurately report data to the administrators on the current and planned status for the ZEV initiative.
The agility of the Alteryx platform including the ability to conduct geospatial analyzes meant that the FAA could create engaging visualizations where users can simply hover over an FAA location and get a quick summary on the status related to vehicles at the locations.  Additionally, connections to other data source enables users to get a summary view on the operational status of airports including runway condition, facility readiness and any current alerts that might effect aviation operations.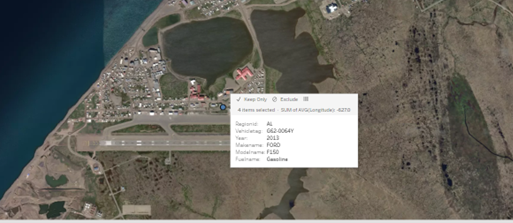 "Using Alteryx enabled the agency functionality and insight to fleet data that wasn't available before. It gives the confidence we needed for budget and timeline conversations."
Alteryx User, Federal Aviation Authority
Actionable insights in action
No with the speed to insight accelerating the fleet operations team can leverage the available analysis to plan for future vehicle conversion needs, and budgeting needs. Additionally with this new level of insight the fleet team at FAA has identified 7 key locations the agency can focus on to enact fleet transition to ZEVs immediately.  This includes the ability to identify 274 vehicles (6%) in the existing fleet that would be the best targets for replacement.
With a more controlled, trusted, and faster flow of data through the analytic workflow, the team at the FAA has access to accurate, timely updates about the fleet status — helping ensure the agency is placing electric vehicles in places that have supporting infrastructure.
Data is now more accessible, accurate, timely, transparent, and actionable, helping analysts and decision-makers across the FAA manage the nations aviation network more effectively and efficiently. As one Alteryx User describes it "Using Alteryx enabled the agency functionality and insight to fleet data that wasn't available before. It gives the confidence we needed for budget and timeline conversations."
With this increase analytic capability, the FAA is on track to meet the ZEV guidelines, reducing fuel costs and reducing the agencies carbon footprint.
About eSolytics
eSolytics LLC  and Alteryx partner, is a collaboration of functional and technical subject matter experts supporting the mission of federal agencies for over 20 years. With over two decades of experience delivering successful solution development, implementation, and integration. Supporting the people, processes and systems critical to organizational success. They can be reached at www.esolytics.com
For more information on Alteryx Geospatial capability read Unify Your Geospatial Analytics.
About Alteryx, Inc.
Revolutionizing business through data science and analytics, Alteryx offers an end-to-end analytics platform that empowers data analysts and scientists alike to break data barriers, deliver insights, and experience the thrill of getting to the answer faster. Organizations all over the world rely on Alteryx daily to deliver actionable insights. For more information, visit www.alteryx.com.
Alteryx is a registered trademark of Alteryx, Inc.
About IC Insiders
IC Insiders is a special sponsored feature that provides deep-dive analysis, interviews with IC leaders, perspective from industry experts, and more. Learn how your company can become an IC Insider.