Mapping Humanity to Enhance Intelligence Analysis
By Loren Blinde
June 20, 2023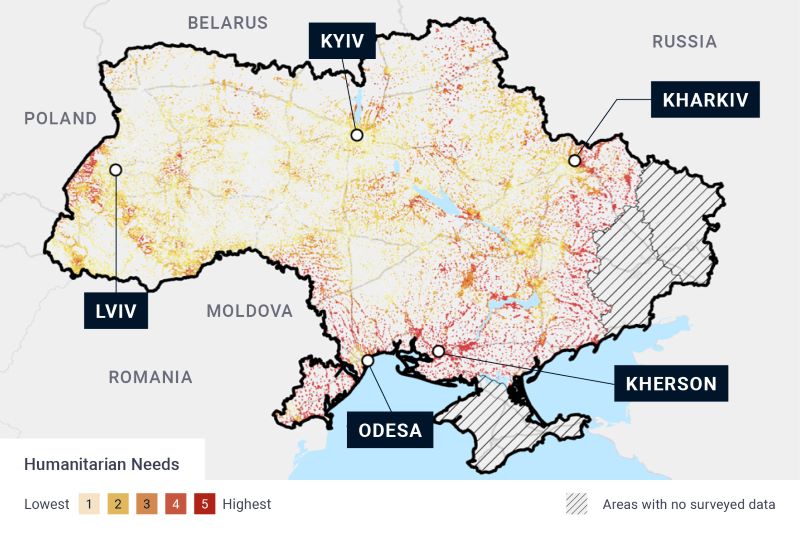 From IC Insider Fraym
Fraym maps humanity. Understanding the human condition is the most foundational aspect of intelligence. Fraym's foundational human geography data allows users to zoom in on communities across the globe and know what populations look like, what they think, and how they behave. National, aggregated statistics often mask important local-level nuance. To address this gap, Fraym maps dynamic population attributes, attitudes, and behaviors for nearly any country in the world.   
Fraym's ML/AI-powered population insight enables predictive analysis, provides measures of effect, and enhances analytical products to support any intelligence mission.
Here's an example of how Fraym data illuminates critical human dynamics in relation to the Ukraine crisis.
Ukraine in Crisis
Mapping the humanitarian impact of  Russia's war
Russia's military invasion of Ukraine triggered Europe's largest humanitarian crisis since WWII. To date, approximately one-third of Ukraine's pre-war population has been displaced, totaling an estimated 13 million people. Fraym data further reveals that 42% of the remaining population would emigrate if resources allowed.
Fraym's granular human geography datasets enable analysts and crisis responders to understand the communities most in need of humanitarian assistance. Our Humanitarian Needs Index shows that populations in the southeastern Oblasts of Kherson and Zaporizhzhia have the most severe needs. Fighting in this region is particularly intense amidst Ukraine's ongoing counter-offensive and following the recent explosion of a major dam which displaced thousands.
Below, we utilize Fraym's granular attitudinal data to understand and map the extent of Ukraine's humanitarian crisis.
Humanitarian Needs Index
Point 1: Russia's war has ground Ukraine into a deep humanitarian crisis. More than 7,000 civilians have died, one in three Ukrainians are unemployed, and one million need food assistance. Our Humanitarian Needs Index combines these data and others to help crisis responders target limited resources.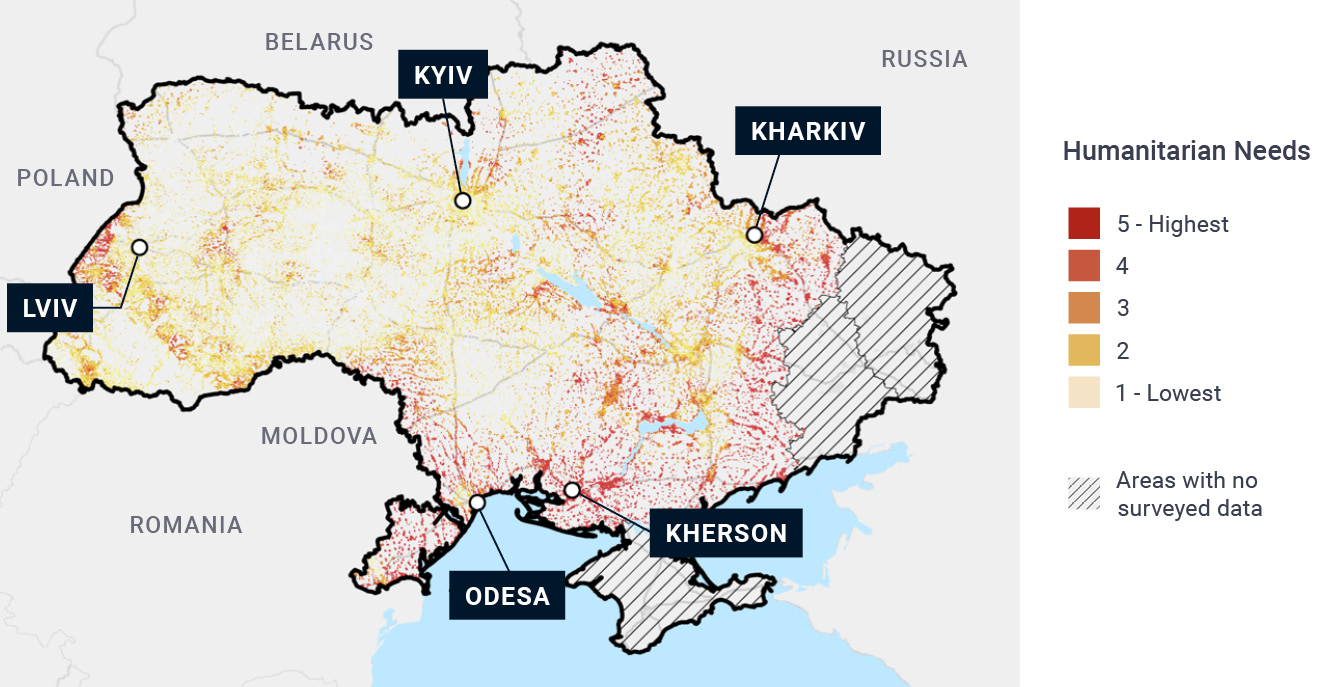 Index Features
Point 2: Our index is based on six population variables produced by our novel data and AI/ML technology. Indicators are scaled from 1 to 5 and averaged. UN data on humanitarian access, conflict severity, and other factors have also been incorporated.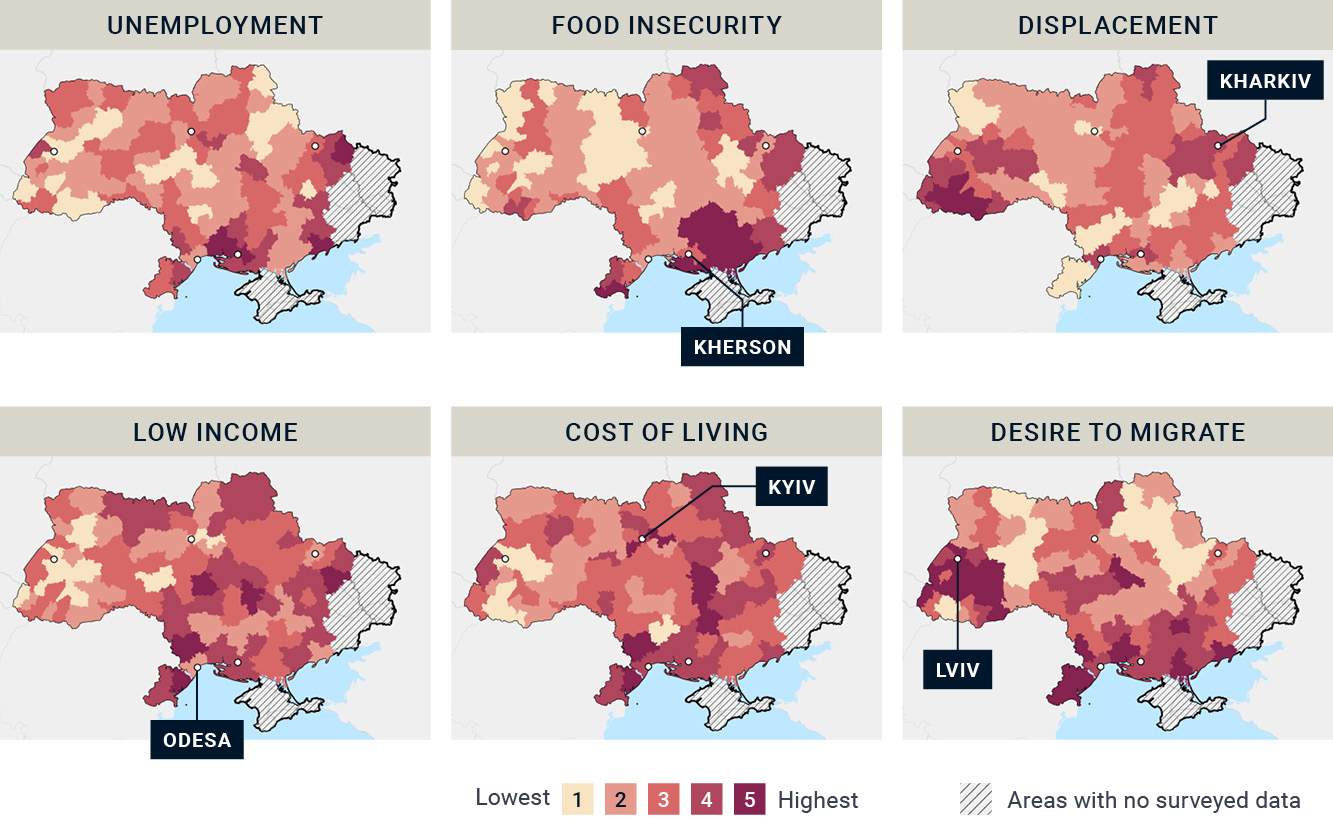 Humanitarian Need Breakdown
Point 3: Many oblasts score high on the humanitarian needs index. However, to further illustrate the magnitude of humanitarian need, Fraym weighted each index score by population, to explore the proportion of individuals in each category. 
Ranking the highest on the need index, Kherson has 82% of individuals in the "high need" category (index score 5). More than 50% of the population of Mykolaivwas also categorized as "high need."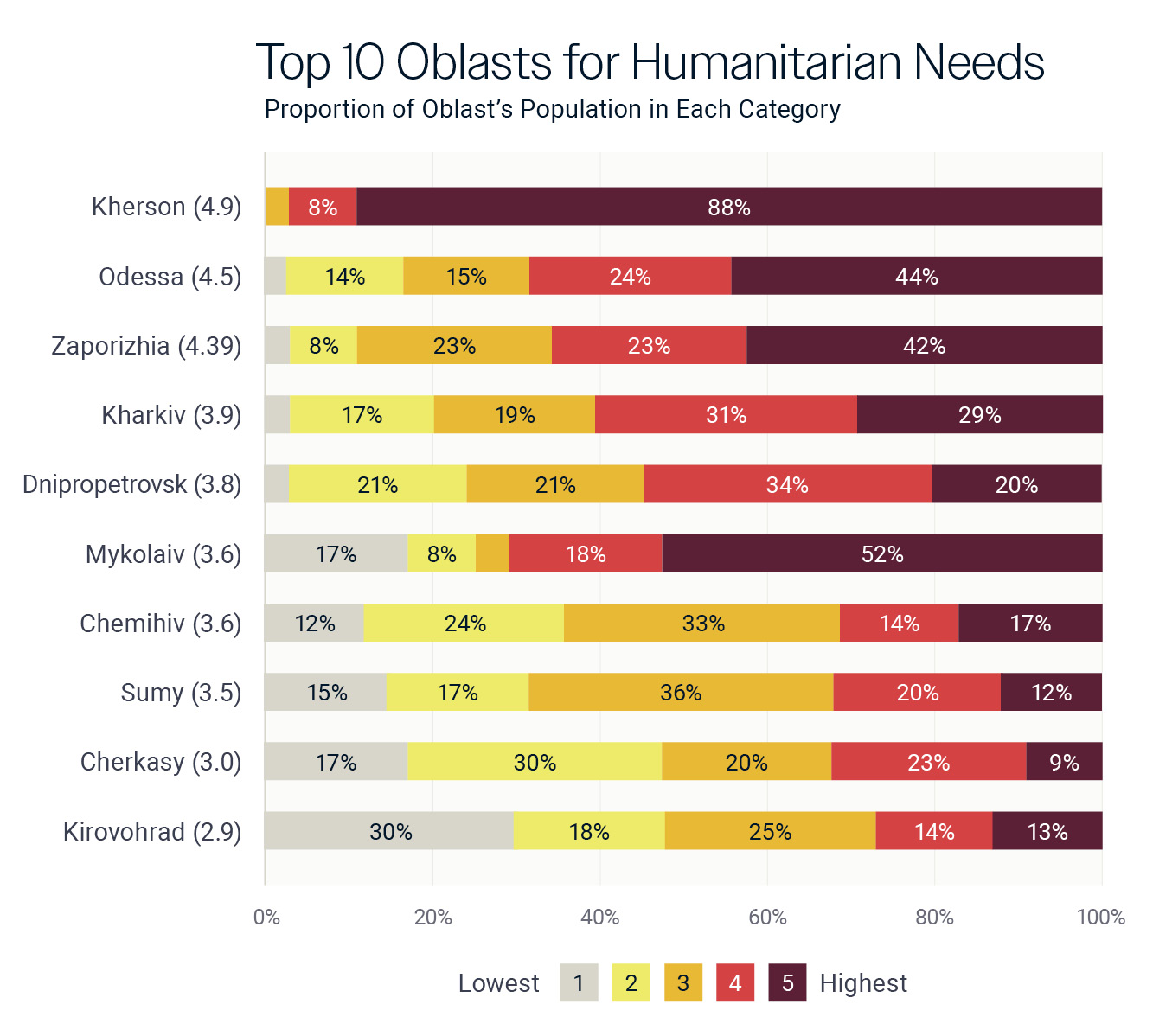 Point 4: The explosion of a major hydroelectric power station as well as intensified fighting amidst Ukraine's counter-offensive is exacerbating a dire humanitarian situation in the southeast. Fraym data can allow crisis responders to the top needs of communities in the region at a hyperlocal scale.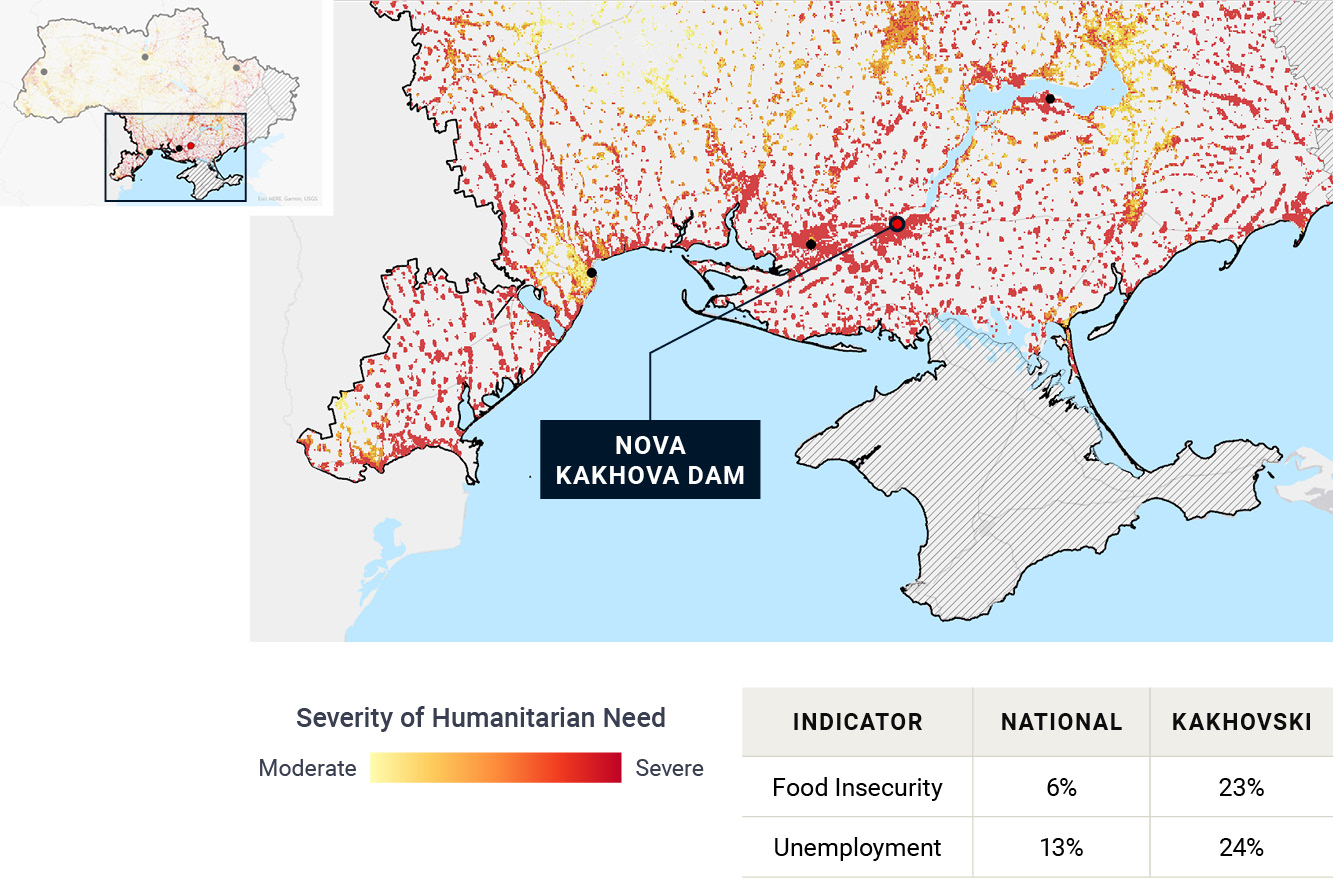 To learn more about how Fraym data can support your mission contact Rob Galvin at r.galvin@fraym.io.
About Fraym
Fraym is a technology company working to map humanity. The company's machine learning software turns household-level surveys into census-like spatial data across entire countries. This allows customers to zoom-in to communities across the globe and know the people's attributes, attitudes, and behaviors at the neighborhood level. Governments, organizations, and companies use Fraym data to help solve the most pressing challenges of our time.
About IC Insiders
IC Insiders is a special sponsored feature that provides deep-dive analysis, interviews with IC leaders, perspective from industry experts, and more. Learn how your company can become an IC Insider.