MAG Aerospace Launches the MC-208 Guardian
By Loren Blinde
March 22, 2021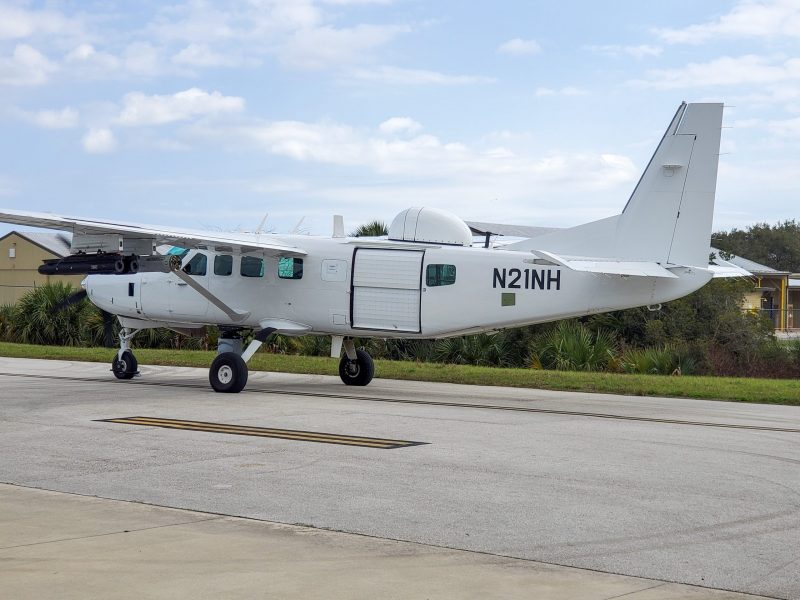 From IC Insider MAG Aerospace
MAG Aerospace, a leader in integration and turnkey ISR solutions, has brought its expertise to bear on the newly launched MC-208 Guardian. The multi-role aircraft – built on one of the world's most widely-known and trained-on platforms, the Cessna C-208 – has been designed to reflect the complexities and realities of today's battlefield.
Operation-focused and mission-driven
The U.S.-built aircraft contains MAG-integrated sensors, communications, avionics, and weapons systems making it a true multi-role platform, capable of supporting a wide range of mission sets, including Intelligence, Surveillance and Reconnaissance (ISR), Air Mobility, CASEVAC/MEDEVAC, Armed Recce, Strike Coordination, and Precision Strike. Moreover, it is designed and built to operate with minimal support and tooling, boasts a historic availability rate of 98 percent, and very low cost per flight hour.
"In designing our MC-208 Guardian offering, we sought to create a multi-role aircraft that truly addresses the multitude of challenges that our U.S. and partner nation forces face in the field every day," said Joe Fluet, MAG CEO. "From selecting a proven, rugged, and flexible platform with more than 20 million flight hours, to providing multiple communication channels and weapons configurations and certifications and ensuring quick reconfigurability, we designed this aircraft to solve the toughest problems and protect troops on the ground even in the most austere environments."
Versatile and fully certified with a global reach
Drawing from worldwide experience across a variety of environments, the MC-208 Guardian anticipates the unknown. With multiple diverse communication channels and frequencies, as well as beyond-line-of-sight global reach, the aircraft can transition from ISR, to air mobility, to precision strike, or strike coordination support for High Value Targets. Unlike many aircraft, the MC-208 also can be rapidly reconfigured as an air ambulance to evacuate wounded service members from the battlefield, reducing critical response time by eliminating the need for dedicated CASEVAC aircraft.
MAG's MC-208 Guardian is SEEK EAGLE certified by the U.S. Air Force with U.S. military safe separation approvals. Variants of the MC-208 Guardians multi-role configurations have been delivered and utilized operationally worldwide under the DOD sponsored Building Partnership Capacity program. The aircraft is operationally proven in the ISR, Precision Strike, Armed Recce, Air Mobility and CASEVAC/MEDEVAC configurations. MAG holds multiple Supplemental Type Certificates (STC) from the FAA for the Guardian's multi-role configurations, design upgrades, and added features essential for mission-critical austere operations.
"Our MC-208 Guardian aircraft are currently fielded across Africa, Asia, and the Middle East, supporting the national security interests of the United States and foreign militaries. These aircraft conduct daily counterterrorism missions and serve other operational requirements that benefit the United States, including support for maritime and border security forces," said Tim Wells, Senior Director of the MAG Aerospace Mission Integration Division (MID) facility in Titusville, Florida. "The versatility and durability this aircraft brings to our partner nation customers allows them to secure their own borders – making the MC-208 Guardian a true force support asset and force multiplier to their internal defense initiatives."
Designed to meet the needs of the warfighter and the realities of the modern battlefield
MAG addresses the critical need for system integrity and weapons accuracy with a unique intelligence and surveillance configuration that enables the MC-208 Guardian to quickly transition from relaying targeting information and data on troop movement to a direct-action profile and putting kinetic rounds on target. The aircraft has four weapons-capable hard-points and, using laser designation for pinpoint target accuracy, the MC-208 Guardian can employ up to eight Hellfire missiles or as many as 28 APKWS laser-guided rockets. Hydra-70 Folding Fin Rockets can also be included in the weapons loadout to support suppressive fire to enable troop movement. Night vision-compliant instrumentation and a robust GPS solution mitigate any potential degradation of the Guardian's intended missions and the MC-208 position, navigation, and timing (PNT) solution ensures flawless mission performance through any spectral environment.
In designing this aircraft, MAG considered the need to do more with less today. From ease of flight training and deployment to the aircraft's small logistical footprint, low cost, and aircrew friendly operations, the MC-208 Guardian delivers unmatched military might for the size and cost of the platform.
Learn more about the specifications and capabilities of the MC-208 Guardian and about MAG's full offering of integration and certification services. Visit www.mc208guardian.com/ to learn more.
 About MAG Aerospace
Fairfax, VA-based MAG Aerospace is a leader in providing and enabling real-time situational awareness to help its customers make the world smaller and safer. MAG delivers full spectrum C5ISR Services (integration, operations, training, and technical services) and other specialty aviation to federal, international, civilian, and commercial customers around the world. MAGaero.com // @MAGaerospace
About IC Insiders
IC Insiders is a special sponsored feature that provides deep-dive analysis, interviews with IC leaders, perspective from industry experts, and more. Learn how your company can become an IC Insider.