Anthony O'Brien to become CFO of Raytheon Technologies
By Loren Blinde
September 13, 2019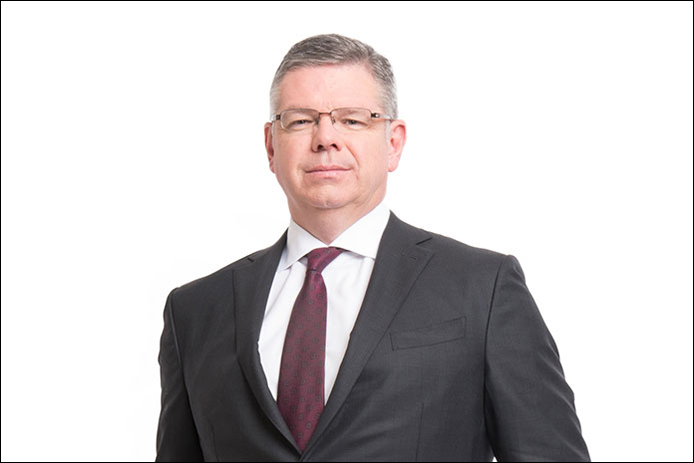 Anthony F. "Toby" O'Brien will assume the position of chief financial officer of Raytheon Technologies, the combined company to be formed by the proposed merger of Raytheon Company and United Technologies. The closing of the merger is expected in the first half of 2020.O'Brien has served as vice president and chief financial officer of Raytheon Company since March, 2015.
Raytheon Chairman and CEO Thomas A. Kennedy announced the appointment at the Morgan Stanley 7th Annual Laguna Conference for investors in Dana Point, California, on September 12.
"I am very pleased to make the announcement that Greg Hayes and I have selected Toby O'Brien as the CFO for the Raytheon Technologies company going forward," said Kennedy.
On June 9, 2019, Raytheon and United Technologies entered into an agreement to combine in an all-stock merger of equals. The combined company will offer expanded technology and R&D capabilities.
"I'd also like to talk a little bit about the merger," Kennedy said at the Morgan Stanley conference. "I would like you to know we are still very excited about it. Our teams are doing integration planning across the board and that is going very smoothly. "
O'Brien is currently a member of Raytheon's senior leadership team, where he directs the company's overall financial strategy. He has previously served in a number of leadership positions at the company, including as CFO for Raytheon's Integrated Defense Systems business, as Raytheon vice president of finance and as senior finance executive responsible for Raytheon Airline Aviation services and Raytheon's Landed Companies, among other positions.
O'Brien joined Raytheon's Financial Leadership Development Program in 1986, after completing a bachelor's degree from Boston College.
Source: Raytheon