Analytic products help SAS surpass $3 billion in 2013 revenue, a 5.2% jump over 2012
By Loren Blinde
January 23, 2014

SAS, an analytics company, in 2013 achieved its 38th straight year of record revenue — $3.02 billion — as organizations embraced a range of SAS products, including its SAS Visual Analytics, a new data visualization software that brings business threats and opportunities into sharp focus.
Revenue growth was double-digit for cloud solutions that fight fraud and financial crimes, manage risk, improve customer relationships and help develop safe, effective new drugs. SAS solutions crunch big data to reveal to organizations what's working, what isn't, and profitable ways to do business.
SAS continues to execute on its vision to turn data — wherever it's from, in whatever form — into priority-shifting insights. "Data is an asset of growing importance to organizations," said SAS CEO Jim Goodnight. "The amount of data pouring in is so vast, it's impossible to analyze quickly enough to make a difference in day-to-day decisions without a high-performance analytics infrastructure. Over the last two years we've delivered ground-breaking analytics technology that unlocks the value in all this data."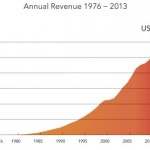 Organizations looking to stop fraud fueled a 44 percent jump in sales of fraud prevention and security intelligence solutions. Revenue from cloud-based offerings, SAS Solutions On Demand, jumped 20 percent as pharmaceutical companies prepared for an onslaught of new regulations, businesses sought to understand customer preferences and state and local governments worked to stamp out fraud. Revenue from all industries grew, including an 18 percent increase in the energy and utilities sector, 17 percent in health care and 16 percent in capital markets.
2014 OUTLOOK
SAS leads in analytics and intends to stay out front, providing market-leading high- performance analytics and other solutions that help organizations of all sizes — from global enterprises to SMBs (small to medium businesses) — conduct analyses with ease, says a company release.
SAS also anticipates continued growth this year in:
Data management, as companies with huge amounts of data struggle to prepare it for analysis. More and more companies are adopting the open-source Hadoop framework for data storage and processing. SAS works closely with partners and customers to help data scientists, business analysts and executives transform big data into knowledge and bottom-line results.
Data visualization, which allows everyday users to explore data by simply pointing and clicking. SAS® Visual Analytics licensed by more than 1,400 sites worldwide, will gain new functionality in the months ahead.
Industry-specific solutions, which address the unique needs of government agencies, banks, insurers, retailers, manufacturers, energy companies, hospitals, pharmaceutical companies, telcos, hotels and more. In 2014, SAS will roll out new and improved solutions to address crucial business needs, from forecasting power demand, optimizing retail channels and managing risk to detecting and preventing fraud, retaining customers, and addressing customer omni-channels and digital marketing needs.
SAS Solutions on Demand, as more companies look to cloud-based solutions to unlock the benefits of complex analyses. SAS offers 25 products in a cloud-based delivery model. These include solutions for drug development, education, anti-money laundering, fraud detection, marketing optimization, customer intelligence, social media analytics and more.
"The ability to inform intelligent actions via analytics is not a new idea," said Henry Morris, IDC's senior vice president of worldwide software and services research. "Forward-thinking organizations have recognized this, and SAS, with its analytic applications and predictive technologies, has been a key enabler."
Jim Davis, SAS senior vice president, said that while not every business has big data, opportunities to grow business can hinge on how well it explores huge, publicly available data. "Data is everywhere," Davis said. "It's coming from sources like financial systems, sensors, Web traffic, wearable devices, social media platforms and open government databases. Low-cost storage and in-memory computing have converged to help organizations make proactive choices on many things, from marketing to product design."
"Organizations that are first to incorporate some of these open data sources into an existing analytical framework will have an edge over their competitors," added Davis. "More and more, SAS is the lens through which business leaders look at data so they can see what's coming and adjust course."
The need to solve complex business problems through analytics is intensifying demand for software and services. It has also created a vacuum of talent. A McKinsey Global Institute study projects up to 190,000 unfilled analytics positions in the U.S. by 2018 and a shortage of 1.5 million managers and analysts skilled in big data.
Research by Accenture projected that six major industries in seven countries would add 117,600 analytics jobs by 2015. Only China is expected to have a talent surplus. The biggest shortfalls are anticipated in the U.S., Brazil and the UK.
SAS is focused on education to equip the 21st century workforce. SAS supports education through innovative products and services that improve teaching, learning and administration. In the U.S. alone, SAS supports 15 master's degree and more than 50 certificate programs in analytics and related fields. New SAS education initiatives in 2014 will augment those programs to multiply talent.