SOCOM at MacDill AFB will seek intelligence-related and other support services
By Loren Blinde
January 8, 2014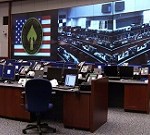 The headquarters of U.S. Special Operations Command at MacDill Air Force Base in Tampa, FL, is preparing to issue a sweeping Request for Proposal for a wide-ranging array of support services – including intelligence operations and Intelligence, Surveillance and Reconnaissance (ISR) program analysis – under a new $1.5 billion contract vehicle, which it has dubbed "Wide Mission Support."
The Wide Mission Support contract is intended to replace the "Global Battlestaff and Program Support" (GBPS) — under which many of SOCOM's support services currently are provided – and which is scheduled to end in May 2015.
SOCOM is now seeking input, comments and questions from interested companies. "This exchange of information is designed to begin market research into the capabilities of industry to meet the USSOCOM's developing requirements and establish the degree of industry interest in the acquisition," says a notice published by SOCOM on January 6.
Under the forthcoming Wide Mission Support contract, SOCOM will be procuring engineering, program management, logistics, administrative and professional services.
In the latest notice, it does not specify the kind of intelligence-related services it plans to acquire, but it provided a detailed breakdown in the solicitation it issued for the earlier Global Battlestaff and Program Support contract back in 2009. That document indicated that SOCOM would be seeking a wide variety of operational and intelligence support.
"This includes, but is not limited to, training, decision support analysis, independent assessments of technical issues, research and support analysis, military planning, intelligence operations support, counterintelligence, SOF exercise support, SOF studies, language support expertise, military operations support, and military operations support strategies," said the 2009 document.
On or about January 13, 2014, USSOCOM will issue a draft of USSOCOMS's strategy for acquiring Knowledge Based Services, via Federal Business Opportunities (FBO).
SOCOM is also planning to host an industry day and one-on-one discussions with interested industry partners January 28-30, 2014 at the Ramada Tampa Airport Westshore in Tampa, Fl.
"During this three-day market research event, the PEO-SV team will present the government's draft strategy and seek industry feedback and recommendations on the draft strategy in an open forum setting and one-on-one discussions," says the SOCOM notice.
Further information is available from Karen Stevens at SWMS@socom.mil