Raytheon Intelligence & Space introduces TITAN system
By Loren Blinde
July 28, 2020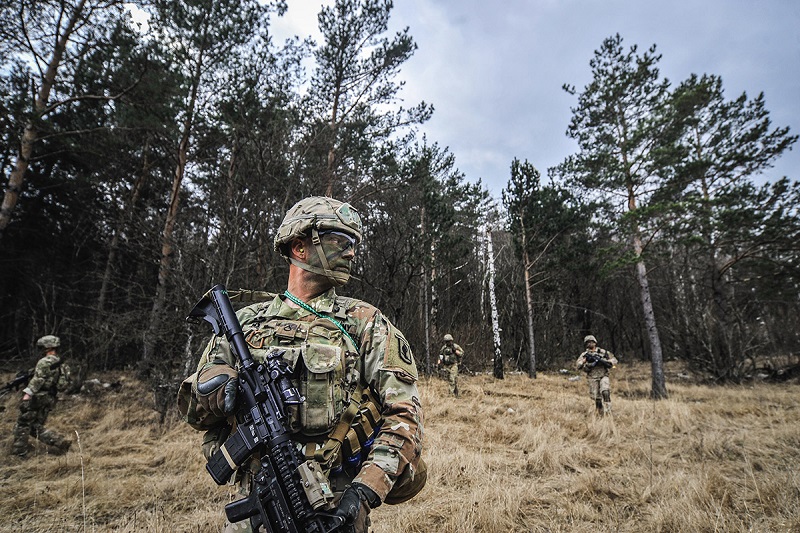 Raytheon Intelligence & Space introduced its work with the U.S. Army to help detect, identify, process and engage targets quicker than ever and at longer ranges than before, the company announced July 23.
The Tactical Intelligence Targeting Access Node, or TITAN, offers frontline forces, as well as headquarter commanders, a resilient tactical ground station capable of rapidly sifting through massive amounts of incoming sensor data to find and track potential threats. TITAN can connect to the future Joint All-Domain Operations enterprise, an all-domain, interconnected network to plan and execute operations in a synchronized, collaborative and streamlined manner.
"The goal of TITAN is to link Army commanders at all echelons to timely intelligence data, speeding up the data-to-decision timeline," said David Appel, vice president for Defense and Civil Solutions for Raytheon Intelligence & Space, one of the four businesses that form Raytheon Technologies. "Today's systems limit timely access to the intelligence information needed to engage in the 'deep fight' – distances greater than 200 miles."
The Army's 2019 modernization strategy describes the future battlefield as "high tempo and contested, with greater weapons lethality, persistent observation, increasing speed of human interaction, and proliferation of weapons of mass effects".
RI&S is developing a TITAN solution that uses machine learning and AI to automate data processing that today is largely done manually. Integrating this technology into the process helps build a strong human-to-machine teaming relationship — reducing the mental strain placed on soldiers. Raytheon Intelligence & Space will demonstrate TITAN to the U.S. Army at the end of July 2020 as part of its proposal.
"Commanders on the front line need to quickly identify and assess threats to their forces," said Greg Hansel, an RI&S business development manager. "To do that accurately, they need a system that can rapidly collect and fuse data gathered from every available sensor – regardless of domain – and quickly share the information with them. The goal is to speed up how fast data moves from sensor to the executing platforms, such as aircraft, artillery or jamming systems."
RI&S's TITAN system combines commercial off-the-shelf technologies with battle-proven defense technology to provide users with uninterrupted access to data in contested environments, and to give them a clear picture of threats that evolve constantly.
"The commercial companies we are partnering with are developing the software running in the background of products people use every day to navigate the digital world, but they're not necessarily designed for military use," said Erik Grant, chief engineer for Defense and Civil Solutions. "We work with them to adapt and harden their products, ensuring they can operate in very high-consequence environments on no-fail missions."
To ensure the TITAN solution continues to be effective as the future Joint All-Domain battlefield evolves, RI&S designed the system for scalability using an open-architecture development approach. The standardized design keeps the cost of maintenance low while enabling upgrades to be rapidly pushed to the system and provide the flexibility needed to integrate future capabilities as new threats emerge.
"We have to find innovative ways to continuously deliver new technology that meets our customers' mission needs, period," Appel said. "We can't get hung up on where the technology comes from, be it the traditional defense industry or commercial partnerships, we have an obligation to bring the best capability to the table. Ultimately, what we deliver is going to protect our service men and women."
Source: Raytheon Intelligence & Space