Office of Navy Intelligence to buy SMART.neXt messaging system support from Northrop Grumman
By Loren Blinde
January 13, 2014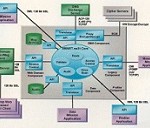 The Office of Naval Intelligence (ONI) has decided to award a sole source firm fixed-price contract to Northrop Grumman Systems Corp., of Herndon, VA, to continue its support and maintenance of existing SMART.neXt critical messaging systems, which process message traffic through three systems within ONI. The dollar amount of this award was not identified in a solicitation notice posted by the Navy Supply System Command on January 10.
"Technical support is required to ensure record message traffic passing through the NMIC continues to be delivered to internal and external customers in a secure and timely manner," the notice says. SMART.neXt is used to process message traffic through ONI's Special Intelligence Communication Center.
SMART.neXt is a proprietary product of Northrop Grumman, which makes it available by purchase order to Northrop Grumman Space & Mission Systems Corp., which acts through Northrop Grumman's Defense Mission Systems Division. "Market research was not completed because SMART.neXt is a proprietary product of Northrop Grumman and currently there are no other manufacturers support that can meet this requirement," said the ONI notice.
"Bridging the gap between incompatible domains, SMART.neXt operates today in the enterprise architectures of intelligence organizations and other locations," explains a Northrop Grumman product sheet. "This secure messaging solution is certified at protection level 4 (PL4) for Top Secret and Below Interoperability and is on the DoDIIH Unified Cross-Domain Management Office's approved list of cross-domain mechanisms."
Vendors other than Northrop Grumman that believe they have comparable capabilities can contact ONI by January 21.
Further information about this upcoming award is available from Linda Stowe, a contracting office, at 301-669-4645 or lstowe@nmic.navy.mil.