How to Quantify Your Analytics Automation Investment
By Loren Blinde
May 3, 2021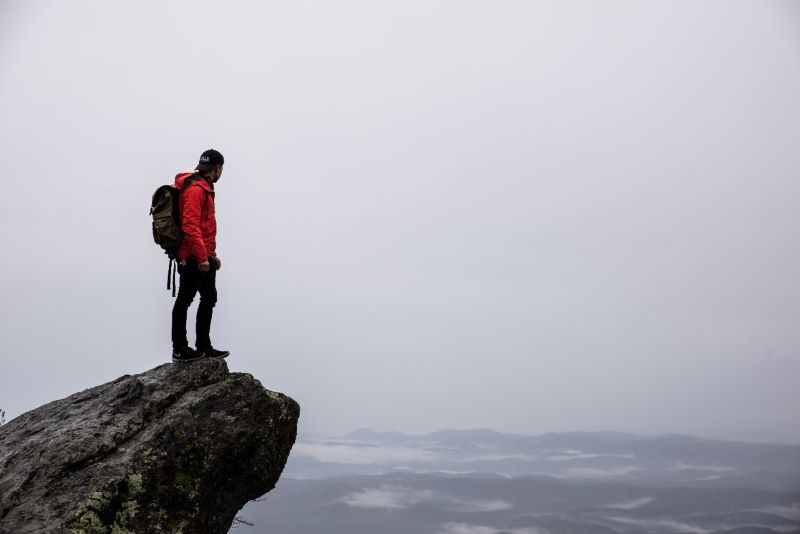 From IC Insider Alteryx
By Andrew MacIsaac, Director, Solutions Marketing, Public Sector, Alteryx, Inc.
Eight Public Sector Business Goals and Key Metrics to Measure Success
A few weeks back I wrote about how the U.S. Census was using Analytic Process Automation to speed up the creation of insights related to Key Performance Indicators (KPIs). In this case, the U.S. Census is already realizing improvements in key metrics and they have been able to prove to their stakeholders the value of analytics automation.
But what about those agencies that have not yet embarked on their journey towards more automated analytics?
According to Gartner, "Before beginning any automation project, it's critical that the organization's stakeholders clearly define the business goal. Often the goal and the metrics get confused between the business problem to be solved and the symptoms of that problem … it is important that stakeholders have a set of baseline metrics for each goal, against which you can measure the results."
Gartner has identified a series of business goals to consider before beginning any project. Each has its own unique set of metrics to measure success, and each metric can and should be tied back to cost, risk, or service impact. These business goals are important because Gartner research finds that outcomes-driven metrics enable C-Suite and CIOs to effectively partner with their business stakeholders to drive business value.
In this post, I have taken the business goals identified by Gartner and applied them to the public sector point of view, along with key metrics for measurement.
Organizational Efficiency
Efficiency is simply making an existing process better, whether it's faster, less expensive, or more accurate.
Example: Implementing automation technology to enable a faster joining of different data sources without having to cut and paste is what makes data analytics more efficient and less prone to error. This is what makes improved efficiency a key measurement area.
Key metrics: Reduced turnaround time, optimized resources, fewer steps, and improved accuracy.
Optimized Operations
Analytics automation provides opportunities to create entirely new processes to provide services in new ways or make it easier for employees to do their jobs.
Example: In the wake of the pandemic, many public sector organizations used automation tools to quickly create new operational processes that made access to data and sharing insights easier.
Key metrics: Dependent on the process, but some options will include the ability to meet new service-level agreements (SLAs), what percentage of the new process can be automated, and the improved handling of exceptions.
Citizen/Client/Service Member Engagement
Engagement encompasses many types of change, including making the citizen/client/service member experience easier, faster, less expensive, and more accurate. It also creates opportunities for the intended target group to engage in a new way or more frequently.
Example: Service providers today are deploying chatbots to answer questions and augment new business capture processes, like enrollment and support servicing activities. It is important to ensure that what is measured is the actual experience — not the efficacy of the process (that is, the bot answer rate) — so that the organization reduces the risk of dissatisfaction and attrition and maximizes the opportunity for more personalization.
Key metrics: Shortened response times, improved satisfaction, and better enrollment and/or retention rates.
Sustainability
Sustainability refers to the long-term value of an organization and is inclusive of business continuity and compliance. Sometimes, the business case for analytics automation initiatives is less straightforward but vital to daily operations.
Example: When public sector organizations had to transition to a remote working environment during the pandemic, many paper-based processes impeded business continuity. When one can no longer move a piece of paper from desk to desk in the same building, processes take longer, or in extreme cases, can't be done at all. This forced many organizations to deploy digital solutions to automate processes, including analytics and the sharing of insights. The increased digital capability improved many public sector organizational abilities to track compliance with regulations, improving business continuity and elevating organizational transparency.
Key metrics: Improved compliance, transparency, and efficiency.
Budgeting and Finance
Because analytics automation is often considered an efficiency mechanism, the opportunity for more effective and proactive budgeting, auditing, reduced fraud, waste, and abuse can be overlooked. Analytics automation enables a better and more efficient way to create insights that make budgeting and finance more dynamic.
Example: With easier access to predictive modeling capabilities, agencies can model out budget scenarios, getting insight into the potential impact certain situations or decisions will make. Additionally, with enhanced machine learning capabilities, organizations can automate the detection of potential fraud or other threats and investigate suspected activity.
Key metrics: The reduction of fraud and budget optimization.
Service Delivery/Mission Success
Analytics automation makes it possible to offer new services, improve service delivery, or in the case of DOD/IC agencies, improve mission outcomes by providing easier access to and a deeper understanding of data.
Example: A standard practice is adding insights to dashboards to help shape policy, service offerings, and mission planning — driving analytic insights to the operational edge. Analytics automation is also lowering the bar towards the adoption of more self-service analytic capabilities that make the application of higher-level analytics (like geospatial, predictive modeling, and machine learning) more achievable without the need for classically trained data scientists.
Key metrics: Active insight consumption, self service capability, and speed to insight.
IT Effectiveness
Although not specifically a business value, a more effective IT operation underlies the ability to drive more business value throughout multiple areas.
Example: The ability of Alteryx to unify the analytics workflow from prep and blend to descriptive analytics, to the ability to leverage geospatial insights and the application of guided predictive modeling and auto machine learning.
Key metrics: Increased self-service, unified data governance, greater tech stack agility, improved efficiency, and optimization of IT operations.
Employees at the Center
For any public sector organization, the effective engagement of employees is vital to mission success.
Example: Far too often the employees involved in the work of analytics are bogged down in manual processes that are mundane, repetitive, and tedious. Finding the data needed is only half the battle, getting it ready for analysis through manual prep and blend processes burns valuable hours of productivity — leading to burnout and dissatisfaction. This is further aggravated by the reality that much of this work must be repeated the next time the reports are due, or an ad hoc request is made.
With an analytics automation platform like Alteryx, valuable data resources can be augmented through reusable workflows, automated building blocks, and guided modeling that enables every level of data a worker to upskill their analytic prowess regardless of this technical acumen.
Key metrics: Employee satisfaction, reduced attrition, ability for talented and creative resources to focus on higher level work that propels your organization forward.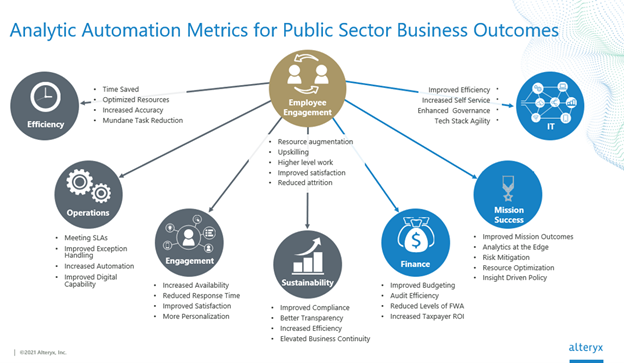 Quantitative Measurements Count
Analytics automation can have a profound impact on the business outcomes of an organization but measuring the value will require choosing metrics aligned to the business goals, and it is vital to ensure that metrics are not too broadly scoped and are measurable.
As the Gartner report states, "while it is acceptable to have some qualitative, subjective metrics — input on ease of use, for example — for informational purposes, they are poor indicators of the organization's financial and sustainability goals to reduce costs, increase revenue, and mitigate risk. Safeguard against over-reliance by applying a quantitative measurement to every business goal."
Register Now
To learn more about the business impact of analytic automation through Alteryx and how organizations of all sizes are leveraging automation to drive business breakthroughs make sure to tune into the 2021 Alteryx Inspire Virtual event May 18 – 20.
About Alteryx, Inc.
Revolutionizing business through data science and analytics, Alteryx offers an end-to-end analytics platform that empowers data analysts and scientists alike to break data barriers, deliver insights, and experience the thrill of getting to the answer faster. Organizations all over the world rely on Alteryx daily to deliver actionable insights. For more information, visit www.alteryx.com.
Alteryx is a registered trademark of Alteryx, Inc.
About IC Insiders
IC Insiders is a special sponsored feature that provides deep-dive analysis, interviews with IC leaders, perspective from industry experts, and more. Learn how your company can become an IC Insider.