DIA receives OSS Congressional Gold Medal
By Loren Blinde
August 8, 2019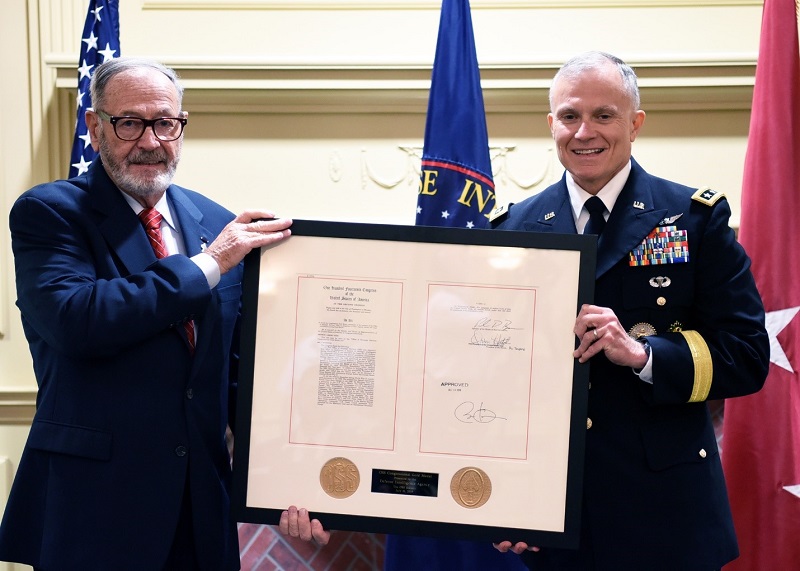 The Defense Intelligence Agency received the Office of Strategic Services Congressional Gold Medal Award during a ceremony held at DIA Headquarters on July 31, the agency announced August 7.
The OSS Society, the organization responsible for honoring the historic accomplishments of the OSS during World War II, awarded DIA in recognition of its status as an OSS legacy agency. Multiple members of OSS found a home at DIA after its dissolution, including Capt. Ottis Stephenson, Lt. Gen. William Quinn and Lt. Gen. Samuel Wilson, who served as DIA's first deputy comptroller, first deputy director and fifth director, respectively.
The medal features the inscription OSS with a paratrooper and two civilians, a man and a woman, which represents the broad range of efforts undertaken by the OSS. Each is rendered as a shape without details, hinting at the way agents sought to operate anonymously. The dates 1942-1945 are to recognizing the years in which the OSS operated. The reverse of the medal features the OSS spearhead inscribed with code words related to important OSS missions and agents.
The OSS was the first organized effort by the United States to implement a centralized system of strategic intelligence. It is the predecessor to CIA, the U.S. Special Operations Command, U.S. Special Forces and the U.S. Department of State's Bureau of Intelligence and Research.
The OSS Congressional Gold Medal Act was signed into law on December 14, 2016, and was presented at a ceremony on Capitol Hill. It led another successful effort to have the OSS and original CIA headquarters on Navy Hill in Washington, D.C., added to the National Register of Historic Places.
After remarks on his connection to the OSS and their sacrificial bravery during the Dawes mission in 1944, former DIA director and OSS Society representative, retired Lt. Gen. Patrick Hughes, presented the OSS Congressional Gold Medal to the current DIA director, Lt. Gen. Robert P. Ashley Jr.
Upon receiving the award, Ashley reaffirmed the relationship between the OSS and DIA by reading an excerpt from OSS founder Maj. Gen. William Donovan's "Memorandum of Establishment of Service of Strategic Information":
"The basic purpose of this (agency) is to constitute a means by which the President, as Commander-in-Chief, and his strategic Board would have available accurate and complete enemy intelligence reports upon which military operational decisions could be based."
Ashley then gave special thanks to the guest of honor, retired Maj. James Thompson, for his service in the OSS, noting the impact OSS had on him as a young lieutenant.
"These are the stories that brought us into this field, the sense of adventure, mystique, the feeling that you could do something amazing for your nation," he said.
Source: DIA