DIA Navy Element announces change of command
By Loren Blinde
January 31, 2019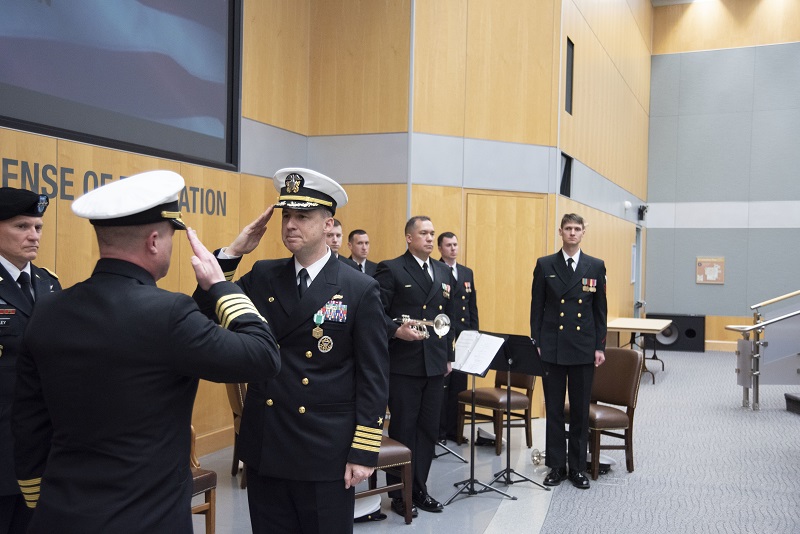 The Defense Intelligence Agency's Navy Element held a change of command ceremony January 30, at DIA's headquarters on Joint Base Anacostia-Bolling.
Capt. Peter Shepard relieved Capt. Joshua Himes in a ceremony presided over by DIA Director Lt. Gen. Robert Ashley.
"Both these Sailors have had incredible careers, which have taken them around the world," said Ashley. "Josh will have a lasting impression on this organizations, which really is what it's all about.  I've appreciated the maturity and insights that Josh brings."
The Navy Element commander is responsible for DIA Sailors stationed throughout the world, who provide foundational intelligence products to U.S. warfighters and policy makers.  Nearly 50 percent of DIA's 16,500 civilian and military employees are stationed outside Washington, at national intelligence centers, combatant commands, combat zones and defense attaché offices in more than 140 countries.
"It has been the privilege of a career to work alongside so many outstanding Sailors, Soldiers, civilians – shipmates in short – committed to excellence in defense of the Nation," said Himes.  Himes also attributed his success to living by the simple truism, "Take care of your Sailors so they can take care of the mission."
Himes is scheduled to become the commanding officer of the U.S. Central Command Joint Intelligence Center in Tampa, Florida.
After the orders were read, Shepard took the opportunity to thank his predecessor and address his new staff.
"Capt. Himes, you have set the bar high for this team and done and awesome job," said Shepard.  "To the DIA Navy Element, I am humbled to serve as your C-O and I look forward to working with all of you.  As I embark on this my second tour at DIA, know that you have my respect for all of the vital work you do wherever you may be serving."
Shepard, most recently the director of intelligence for U.S. Third Fleet and Deputy Maritime Operations Center Director in San Diego, previously served at DIA in the China Military Capabilities Branch from 2008 to 2011.
Source: DIA