Dell pitching multi-tenant and dedicated Cloud solutions to U.S. Government customers
By Loren Blinde
June 15, 2013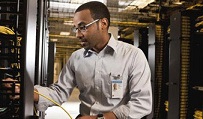 Dell announced on June 11 the launch of Dell Cloud for U.S. Government, a secure solution that offers customers with unique needs a powerful and efficient Cloud environment.
The Cloud initiative represents a move by Dell to capitalize on several of its recent acquisitions of cyber security-related companies, particularly its purchase of Perot Systems in 2009, according to Jeff Lush, the chief technology officer for Dell's federal government services unit, who spoke with Government Security News earlier this month.
Designed to meet the stringent Federal Risk and Authorization Management Program (FedRAMP) approval process, as well as National Institute of Standards and Technology (NIST) 800-53 criteria — while helping to meet Cloud commitments outlined by the U.S. Chief Information Officer in recent years, the Dell Cloud for U.S. Government offers both single and multi-tenant environments. The multi-tenant arrangements would be deployed at either of two Dell-owned data centers, Lush told GSN. One is located in Quincy, WA, and the other is in Ashburn, VA.
As one of the first IT providers to offer a solution designed to meet a full range of federal requirements, the Dell Cloud for U.S. Government will allow government customers to leverage a powerful and flexible platform that will help them to do more with less in today's challenging budget environment, said a Dell news release. About 95 percent of the products that comprise the Cloud platform are Dell products, said Lush.
Dell Cloud for U.S. Government is designed to meet the specific needs of its customers by providing a range of options to allow for quick deployment and to maximize efficiency. "We can literally install this in less than 30 days," Lush told GSN.
Options for this solution include:
The platform
• Infrastructure as a Service (IaaS)
• Platform as a Service (PaaS)
• Software as a Service (SaaS)
• Dell Cloud for U.S. Government Dedicated, an on-premise solution that allows customers to be their own cloud providers
With this suite of Cloud solutions, Dell is offering a full spectrum of options to meet the specific needs of its government customers. Because security is a top concern, Dell has built in more than 275 security controls, helping to ensure customer data and services are secure and isolated.
Dell Cloud for U.S. Government extends the value of Cloud computing in a flexible, federal Authority to Operate (ATO) environment, explains the company's release. Dell offers a dedicated Cloud infrastructure designed to meet the security and compliance requirements as outlined in National Institute of Standards and Technology (NIST) 800-53 and Department of Defense (DoD) 8500 for Federal Information Security Act (FISMA) Low and Moderate, and DoD Information Assurance Certification and Accreditation Process (DIACAP) environments.
The solution enables organizations to take advantage of automated workflow, provisioning, rapid scalability and metered pricing realized through the cloud delivery model.
The Dell Cloud for U.S. Government provides a compliance framework to easily manage multiple ATOs and security requirements. This automated approach provides the required security control templates, Plan of Action and Milestones (POA&M) management, as well as forms and documentation required by the federal government to obtain and manage an ATO.
In addition to FISMA- and DIACAP-compliant environments, the Dell Cloud for U.S. Government can manage National Information Assurance Certification and Accreditation Process (NIACAP), Health Insurance Portability and Accountability Act (HIPAA) and others while providing a continuous monitoring environment for improved network security.
Lush told GSN that the company's Cloud initiative is based on the expertise of personnel working at several recent Dell acquisitions, including those of SecureWorks, Quest Software and Sonic Wall, but the most important experience comes from Perot, whose employees helped design the Cloud's core architecture.
"Perot is the key to this services-led solution," Lush concluded.