Cloud-based DDoS mitigation services growing quickly, says Infonetics
By Loren Blinde
March 20, 2014

Market research firm Infonetics Research released on March 20 excerpts from its 2014 Cloud and CPE Managed Security Services report, which analyzes and forecasts the market for cloud- and customer premises equipment (CPE)-based security services delivered by service providers to small, medium and large businesses.
"The never-ending stream of highly-publicized distributed denial of service attacks is causing companies of all types and sizes to begin investigating DDoS protection, and for many this protection will come in the form of hosted or cloud-based services like those provided by Prolexic and Verisign," notes Jeff Wilson, principal analyst for security at Infonetics Research.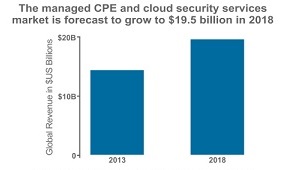 "General interest in this space was very much validated when Akamai picked up Prolexic in 2013," Wilson continues. "We believe cloud-based DDoS mitigation services will grow the fastest of any service covered in our managed security report."
Highlights from the report include:
Globally, the managed security service market totaled $14.3 billion in 2013, up 11% from 2012 (which was up 11% over 2011);
56% of 2013 security service revenue came from CPE-based services, while cloud-based offerings contributed 44%;
Content security services account for almost half of all cloud-based security service sales;
Large organizations represent the largest opportunity for security services through 2018;
The cloud-based security service segment is forecast by Infonetics to grow 60% over the next 5 years (2013–2018), reaching $10 billion in 2018.
Analyst Jeff Wilson will participate in a Webinar offered by Infonetics and IBM on March 20, at 11:00 a.m. EDT, entitled Using Big Data Analytics to Amplify Security Intelligence. It will be a live primer for enterprises and service providers looking to use big data to detect, mitigate, and prevent malicious attacks.