Air Force awards $330M JSTARS TSSR contract to Northrop Grumman
By Loren Blinde
November 21, 2018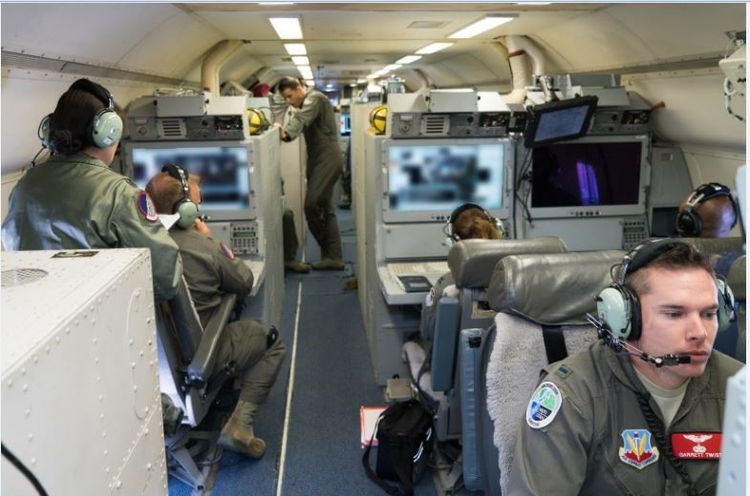 The U.S. Air Force has awarded Falls Church, VA-based Northrop Grumman Corporation a 12-month, $330 million contract for Total System Support Responsibility (TSSR) of the E-8C Joint Surveillance Target Attack Radar System (Joint STARS) fleet. The integrated total systems support contract covers TSSR Period Year 19, which began Nov. 1, 2018 and concludes Oct. 31, 2019.
Under the Joint STARS TSSR program, Northrop Grumman continues its longstanding partnership with the Air Force Life Cycle Management Center to provide total systems support to the 116th and 461st Air Control Wings for all facets of sustainment and support of the 16 aircraft Joint STARS fleet at Robins Air Force Base and forward operating locations overseas. Northrop Grumman will provide program management, engineering technical support, aircrew and maintenance training, supply chain and spares management, technical data and publications, program depot maintenance and overall customer support.
"The C2ISR division looks forward to the continued teaming with Northrop Grumman to improve critical aircraft availability to our combatant commanders while executing our Joint STARS 2030 roadmap," said Col David Menke, senior materiel leader, C2ISR division, digital directorate, Air Force Life Cycle Management Center, U.S. Air Force.
"While supporting the Joint STARS mission over the past 33 years, we have focused on keeping the high-demand E-8C fleet available and mission capable for the combatant commanders. Our commitment to the supported soldiers, sailors, Marines and airmen at the forward operating locations remains steadfast," said Jane Bishop, vice president, military aircraft surveillance programs, Northrop Grumman Aerospace Systems.
"The 24/7 support we provide to our warfighters under TSSR coupled with the rapid fielding of new capabilities is an effective way to ensure mission success. We completed the Air Force Tactical Receive System-Ruggedized upgrade in just 12 months and are now implementing a fifth generation upgrade to the fleet's central computers," Bishop added. "The E-8C's continue to serve as a low-risk pathfinder for the U.S. Air Force through continued fleet capability enhancements while the Air Force develops the follow-on advanced battle management system."
Joint STARS is the only platform in the U.S. arsenal that combines accurate wide-area moving target detection with synthetic aperture radar imagery to locate, classify and track surface targets in all weather conditions from standoff distances. The fleet has flown more than 130,000 combat mission hours in support of the U.S. Central Command since Sept. 11, 2001.
Team JSTARS, consisting of the Georgia Air National Guard's 116th Air Control Wing, the active-duty 461st Air Control Wing and Army JSTARS detachment, provides joint airborne command and control, intelligence, surveillance and reconnaissance support over land and water to combatant commanders around the globe. The total force integration unit operates the world's only Joint STARS weapon system based out of Robins Air Force Base. In addition to work at Robins Air Force Base, TSSR is supported by employees and partners at the Northrop Grumman Manned Aircraft Design Center of Excellence in Melbourne, Florida, the Lake Charles Maintenance and Modification Center, in Lake Charles, Louisiana, and more than 30 major suppliers across the United States.
Source: Northrop Grumman